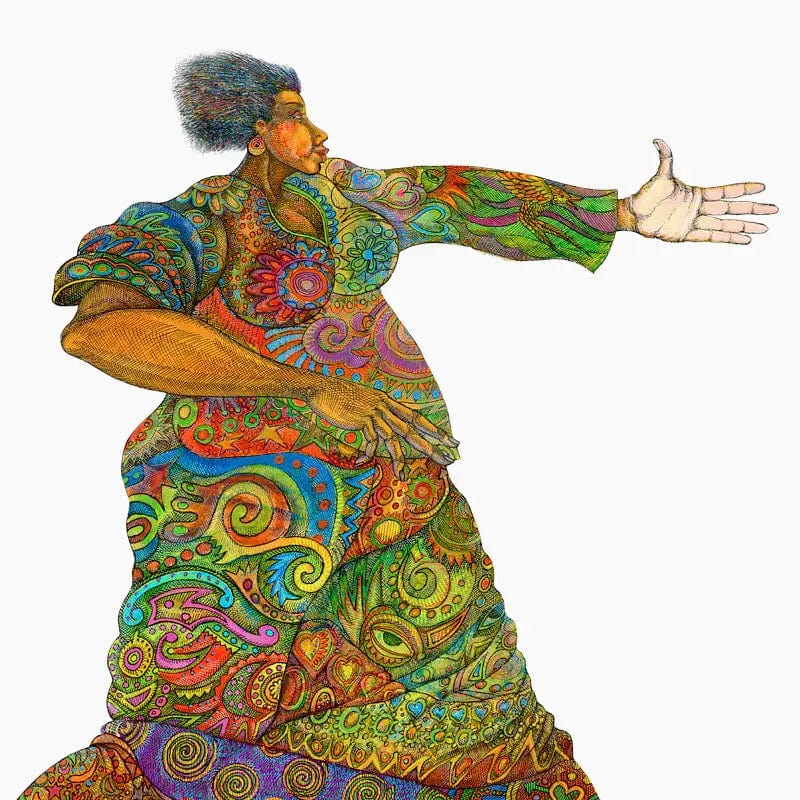 Garments of the Giving Hand
Charles Bibbs
Regular price
$179.99
$179.99
Free Shipping on Orders over $100.00
30 Day Refunds Policy
Buy Online and Pickup in Store
Buy Now Pay Later Available
Limited Edition. Edition size of 100 pieces (Limited Edition) or 10 pieces (Remarque).
Giclee on Paper
Ships signed and numbered and with a certificate of authenticity from the artist.
Explores themes of generosity and selflesness.
Available as a limited edition or remarque.
The phrase "the giving hand" typically refers to the act of providing help, support, or generosity to others. It represents a metaphorical hand extended to offer assistance or contribute to the well-being of someone in need. It embodies the concept of selflessness, kindness, and benevolence. The giving hand can be interpreted as a symbol of charity, compassion, and a willingness to make a positive difference in the lives of others. It encompasses acts of giving, whether it involves material possessions, time, resources, or emotional support.
The act of giving and living a fulfilling life are closely connected. Giving allows us to connect with others, cultivate empathy, and find a deeper sense of purpose. It brings meaning to our lives as we positively impact others and experience gratitude and joy. Generosity fosters personal growth, instills virtues, and contributes to our spiritual and moral development. By embracing giving selflessly, we can experience a profound sense of fulfillment and find true richness in our lives.
 A limited edition work of art by Charles Bibbs is available as a standard limited edition (edition size of 100 pieces) and a remarque (edition size of 10 pieces). Originally published in 2016.  Measures 19x19 inches (image size). Printed on museum quality, heavyweight acid-free watercolor paper. Printed with archival inks. Ships signed and numbered and with a certificate of authenticity from the artist.
| | |
| --- | --- |
| Cert. Of Authenticity | Ships with a certificate of authenticity from the artist. |
| Edition | Limited Edition |
| Edition Size | 100 pieces (Limited Edition) and 10 pieces (Remarque) |
| Framed | Unframed |
| Height | 19 inches |
| Length | 19 inches |
| Medium | Paper |
| Signed | Ships signed and numbered by the artist |
| SKU | bibbs-givinghand |
| Year Released | 2016 |
Charles Bibbs
Charles Bibbs, an internationally acclaimed artist, is known for his powerful and spiritually infused images that reflect a deep sense of Majesty, Dignity, Strength, and Grace. Born in San Pedro, California, and raised in Harbor City, Bibbs dedicated himself to art while working a full-time job. In 1991, he left his management position of 25 years to establish B Graphics and Fine Arts, Inc., which has grown to become a leader in the African American art print market. Bibbs's work, characterized by a fusion of African, African American, and Native American themes, has been featured in museums, galleries, and homes of collectors worldwide. Alongside his artistic endeavors, Bibbs has been actively involved in supporting the art community, serving on museum boards, conducting workshops, and mentoring aspiring artists. His philanthropic spirit is evident through his contributions to scholarship fundraisers, youth programs, and various organizations. Bibbs's distinctive style and commitment to cross-cultural statements have earned him numerous awards and accolades. His artwork captures the essence of spirituality, majesty, and grace, inviting viewers to interpret and connect with his creations on a personal level.
Limited edition artwork ships in 0 to 14 business days depending upon the artwork, artist and medium. All limited editions ship signed and numbered and with a certificate of authenticity from the artist. When a limited edition work of art is purchased a member of our team will contact you within 1 to 3 business days to provide you with a shipping timeline. Some limited editions are not eligible for expedited shipping. For additional information please visit our: Special Note About Limited Editions