REFRAMING ART PROJECT: FROM "JOMANDI" TO "HE AIN'T HEAVY"
We recently completed a reframing project for a member of our Metro Atlanta, Georgia community. They wanted the framing to match the greys, black and browns featured in their home after the remodeling and renovations were completed.
We were happy to work with them and assist them to turn their vision into a reality. After all, our mission is to Make Your Home Look Good!
I wish we would have kept the "before" photos, we will do that going forward, but we do have the "after" photos for you to review in the video and article below. Let's explore some of the artwork that we reframed!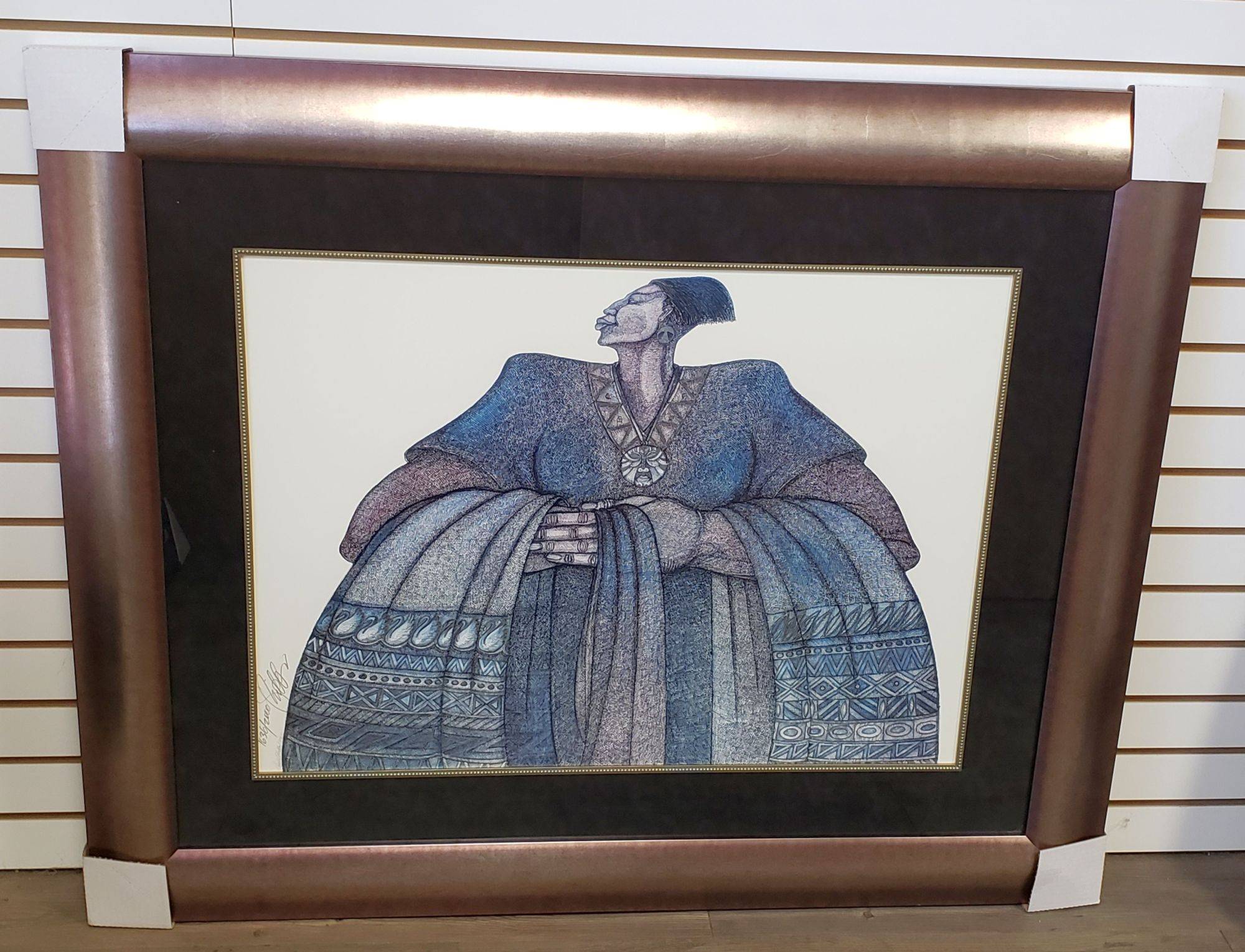 This is a timeless and rare work of art by Charles Bibbs titled "Jomandi". This is the original version that was published. There is a newer version but it is in color instead of in the blank, white and silver stylings seen in the original release.
It is framed in a large silver/platinum frame with a sude mat and silver filet.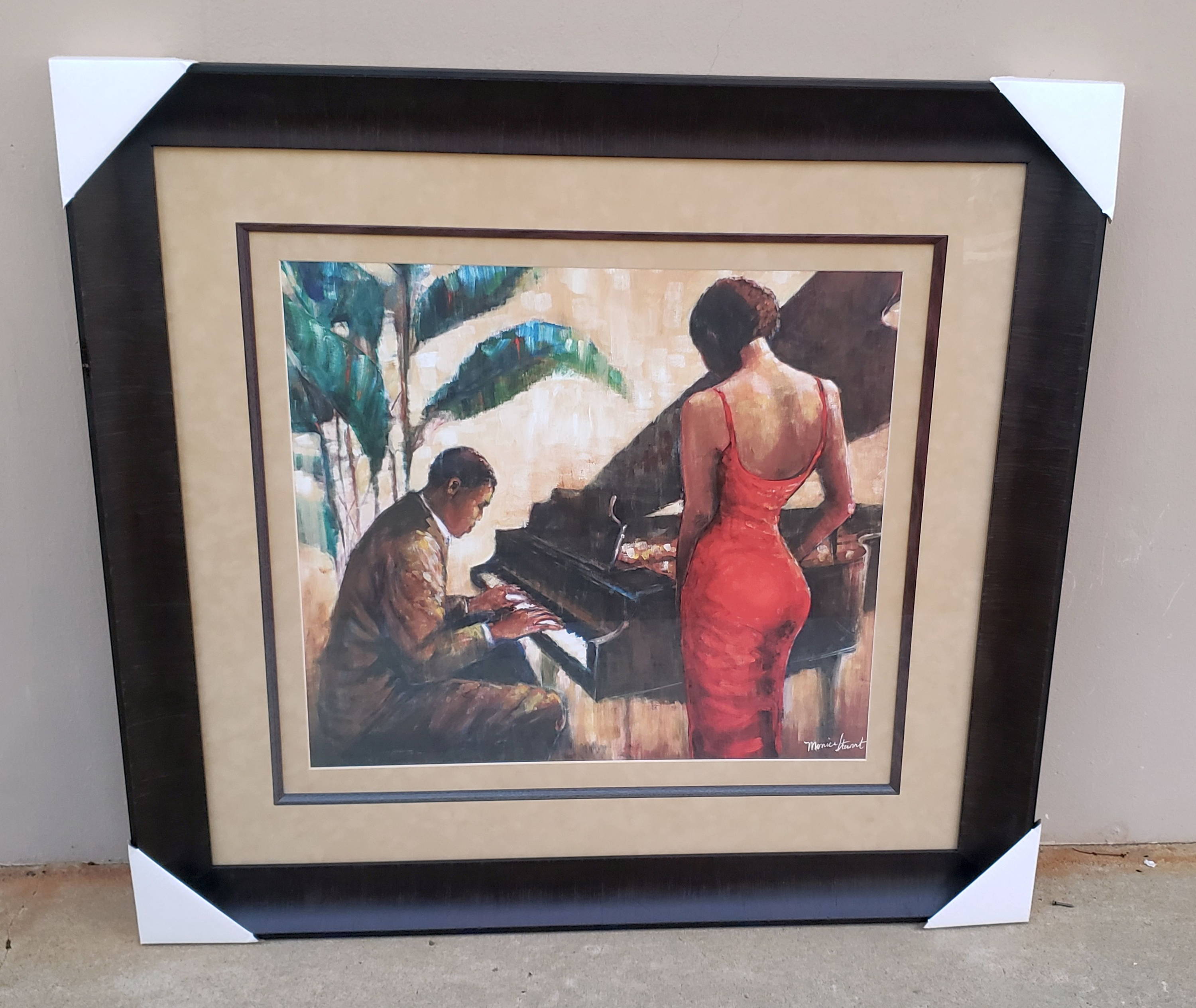 Enchanting Keys by Monica Stewart
This is an open edition work of art by Monica Stewart. We recommended that she keep the double suede mats and file because the print really looked good matted in such a fashion. We did want to change the frame. We decided upon this dark expresso textured frame.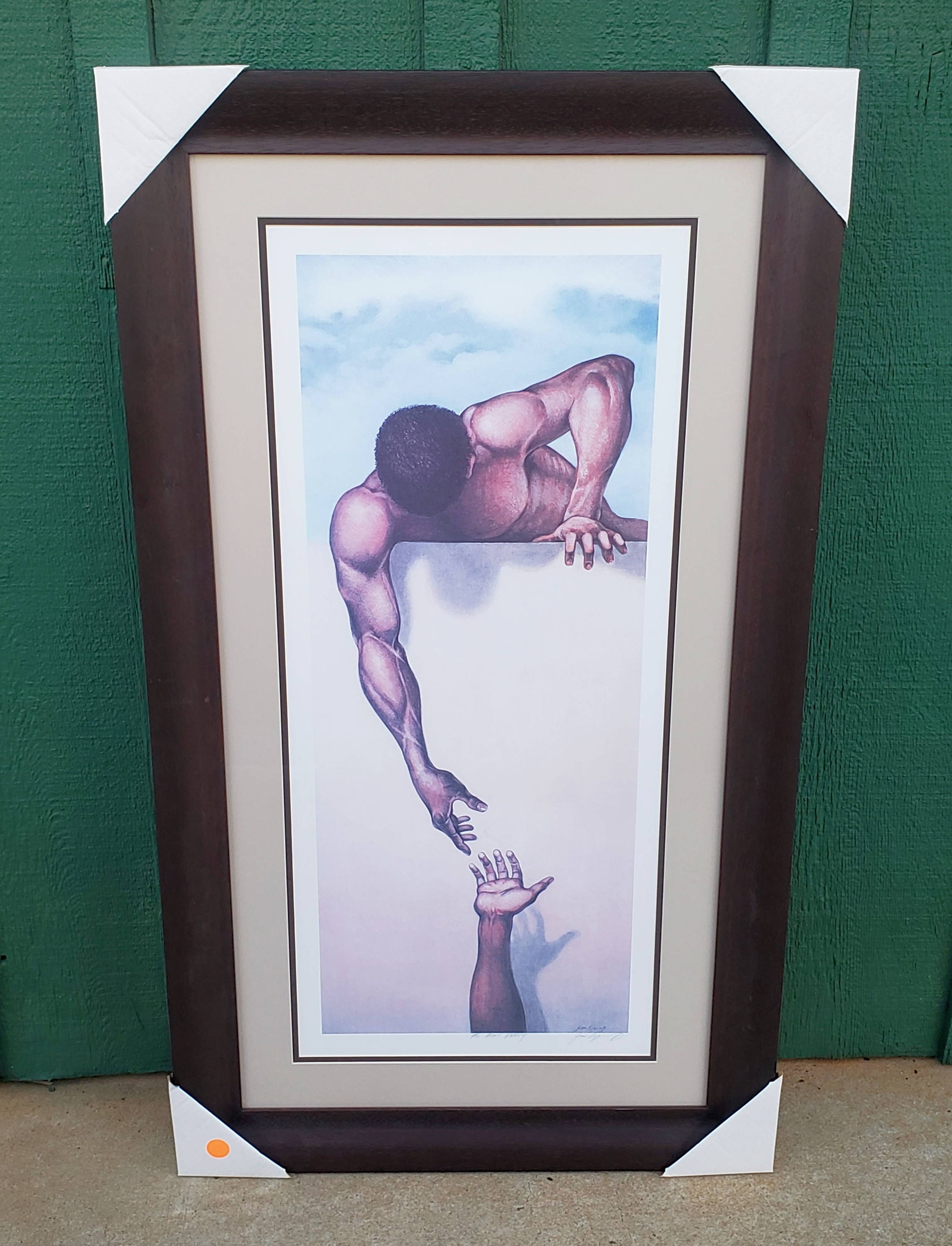 He Ain't Heavy by Gilbert Young
He Ain't Heavy is one of Gilbert Young's most popular works of art. President Barack Obama also said it was his favorite painting. This work of art is much tougher to locate than it has been in the past.
We reframed it in a Dark Brown frame and double matted it in a beige and dark brown mats. The frame look even better in person when you can see the character in the wood.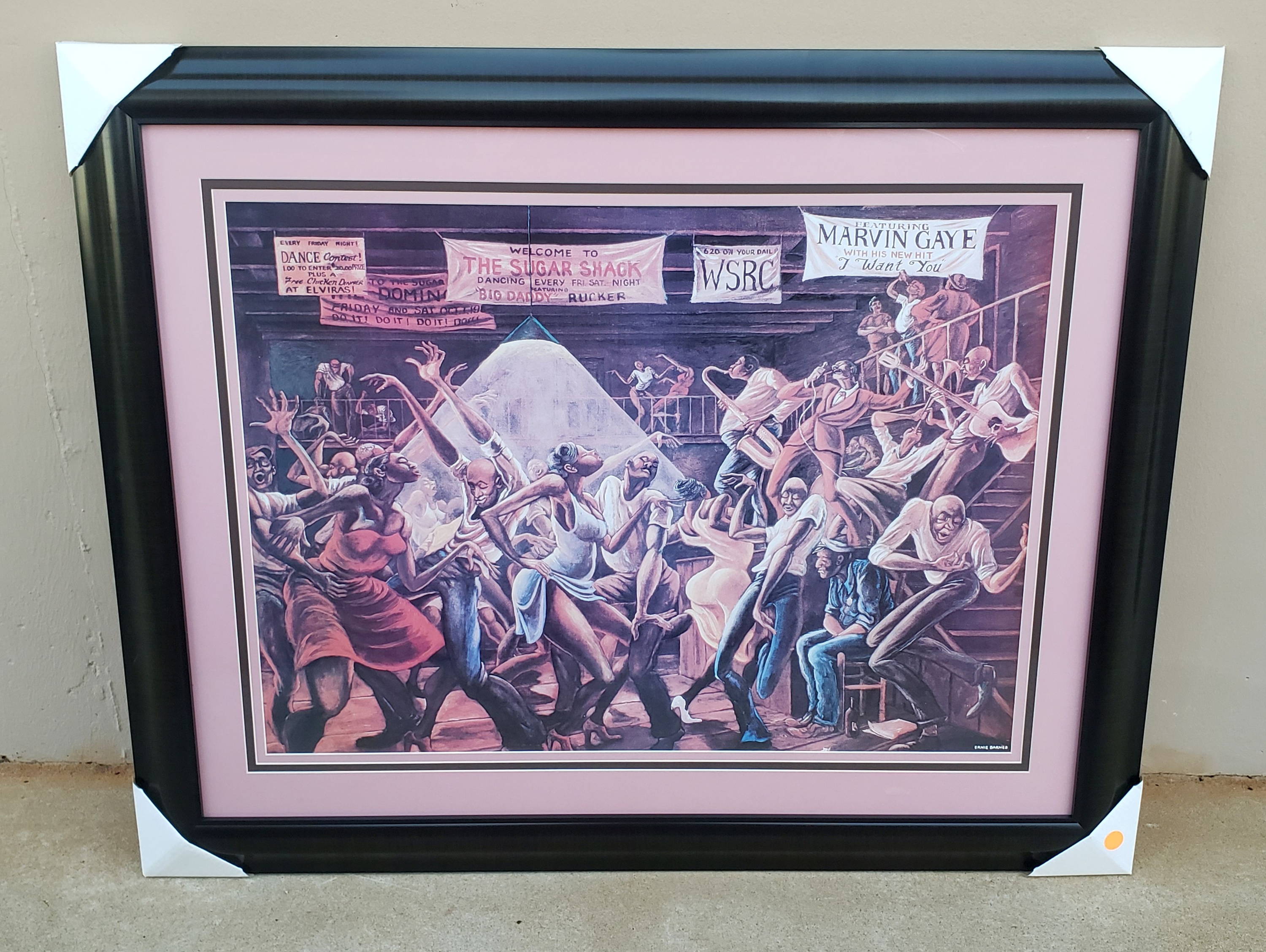 Sugar Shack by Ernie Barnes
Everyone of a certain age remebers this timeless classic by the late Ernie Barnes that was featured on the TV sitcom "Good Times" and on Marvin Gaye's album cover for "I Want You". It is titled "Sugar Shack".
The customer had owned this for many years and unfortunately the sun had changed it from its original colors to give it a more pinkish hue. Since the artwork is a little on the expensive side we decided to work with what we had.
Thus we settled on this black frame that is even more beutiful in person and pink and dark colored mats that accented the artwork in its current state.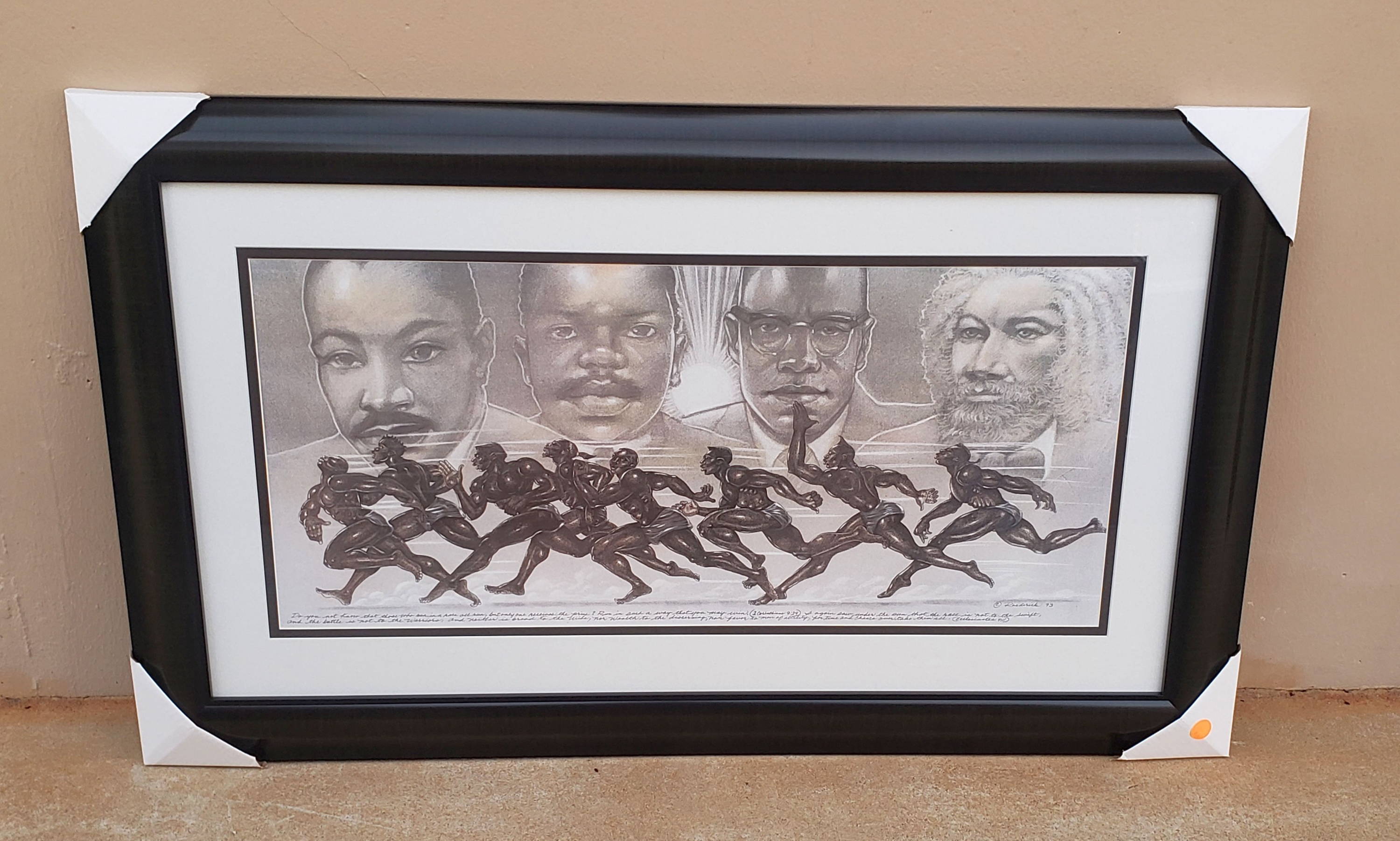 Runnin' Out of Time by Roederick Vines
One of my favorite works of art in this project, "Runnin' Out of Time" by Roederick Vines has a powerful historical theme and features images of African American iconic history makers Frederick Douglass, Rev. Martin Luther King, Malcolm X, Marcus Garvey and inspirational sentiments from the Holy Bible.
The following scripture inspired this work of art and is featured at the bottom of the print: "Do you not know that those who run in a race all run, but only one receives the prize? Run in such a way that you may win" - I Corinthians 9:24 and "I again saw under the sun that the race is not to the swift, and the battle is not to the strong, neither yet bread to the wise, nor yet riches to men of understanding, nor yet favor to men of skill; but time and chance happeneth to them all." - Ecclesiastes 9:11
We framed this work of art in a beautiful black frame. In person you can see the swirls and charachter within the frame. It is matted in a light grey top mat and black bottom mat.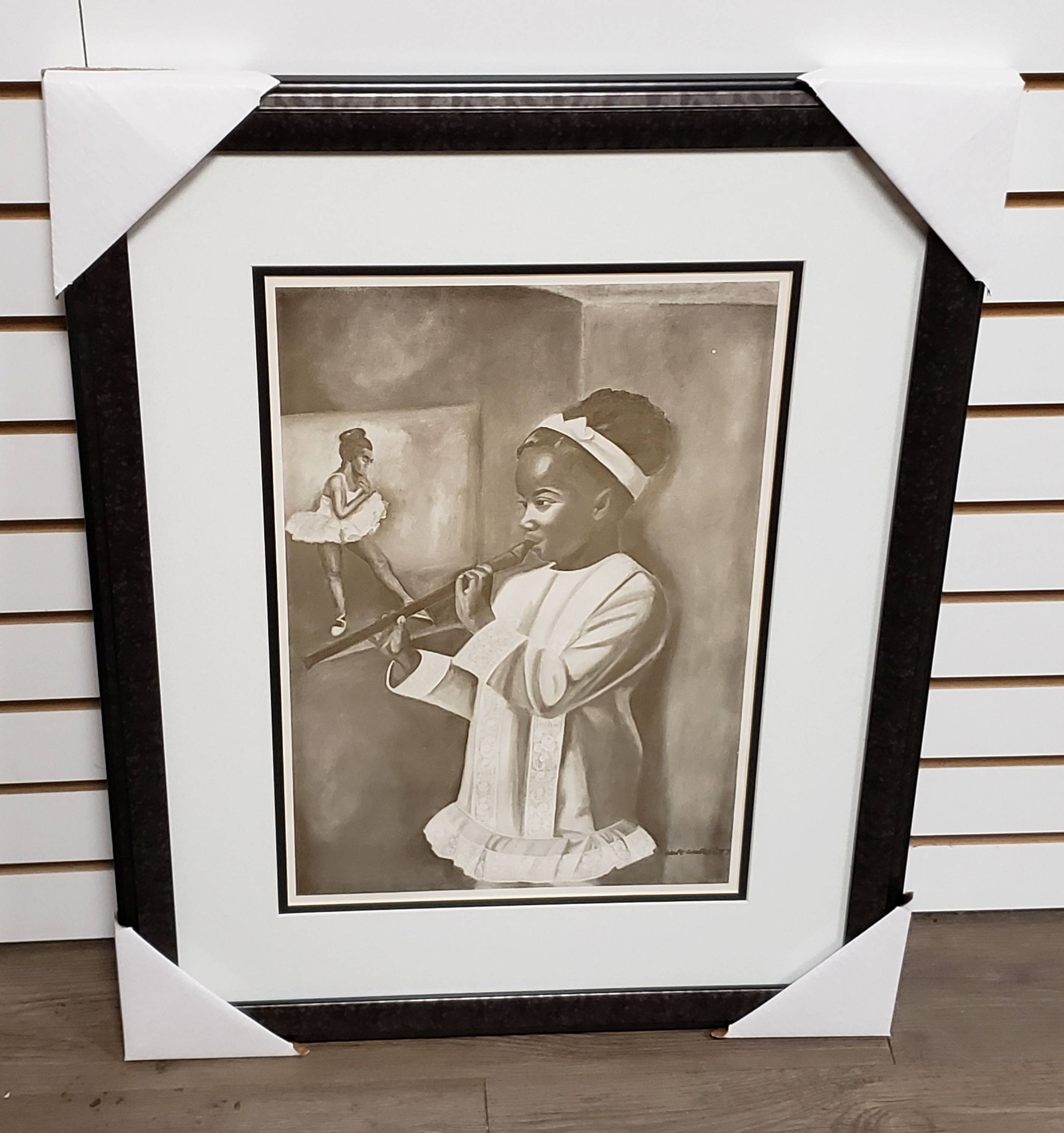 Unfortunately, we do not know the name of this release nor do we know the name of the artist that created it. We love to share that type of information with our customers and visitors so we hate when we can figurine who created a work of art.
We framed this work of art in a black frame with a light gray top mat and black bottom mat. We tend to title this release "The Flutist" but we are not sure if this is an accurate name of the painting.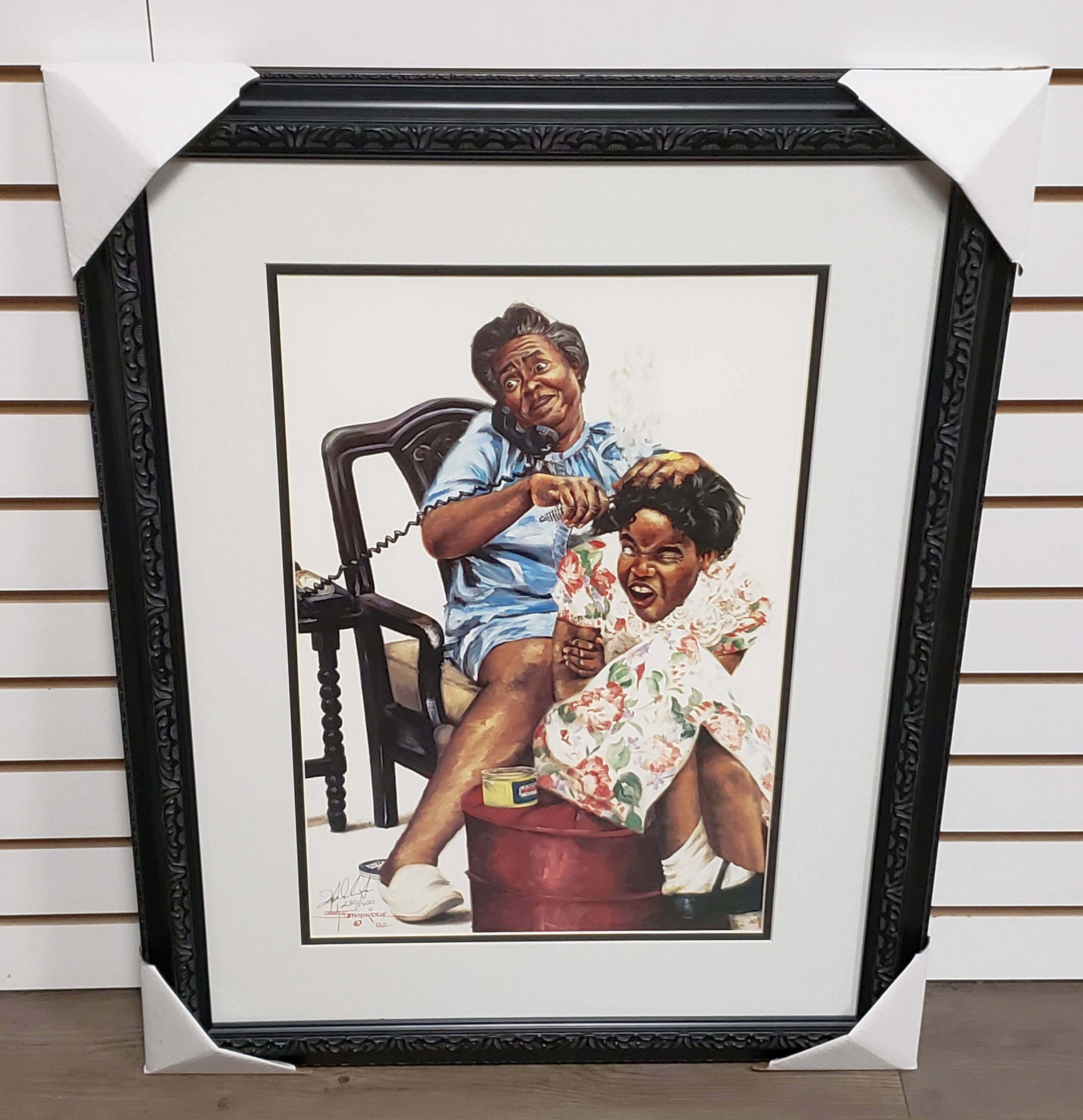 I just bust out laughing the first time I saw this work of art when the customer brought it in to our office. It has so much charachter and I think every woman I know has some kind of hot comb story from when they were young to tell. What's yours? LOL.
This work of art we framed in a Black frame with accents, light grey top mat and black bottom mat. Unfortunately, we don't know the title of the artwork of the name of the artist.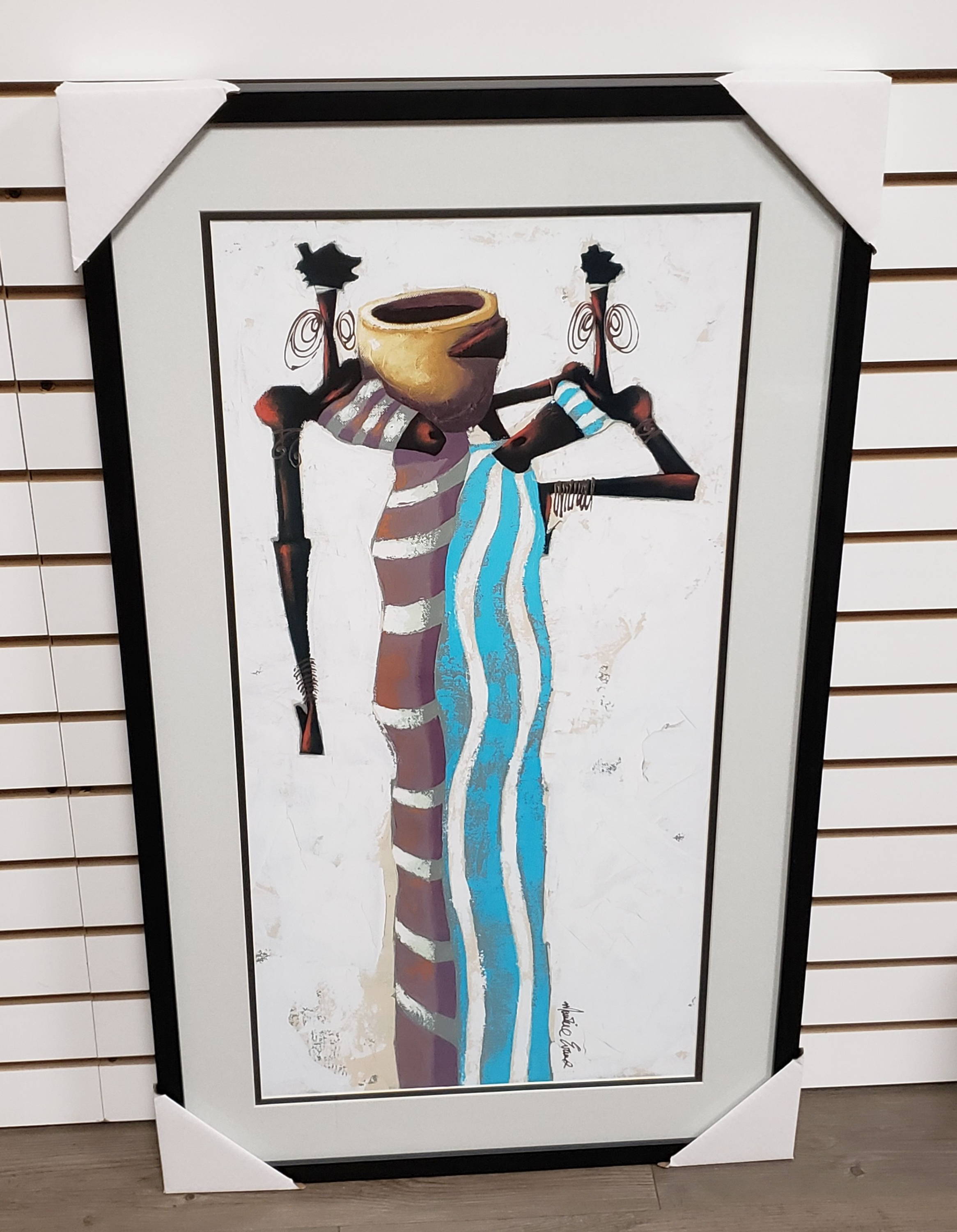 Soul Water II by Maurice Evans
The Soul Water Series by Maurice Evans consist of two Afrocentric works of at art depicting African waterbearers. They are titled "Soul Water I" and "Soul Water II". This work of art is titled "Soul Water II" and was framed in a thin black frame, light grey top mat and black bottom mat.
Have Artwork You Need Framed?
Based in the Metro Atlanta area? Have a framing project? Email us and we will follow up with you for details!