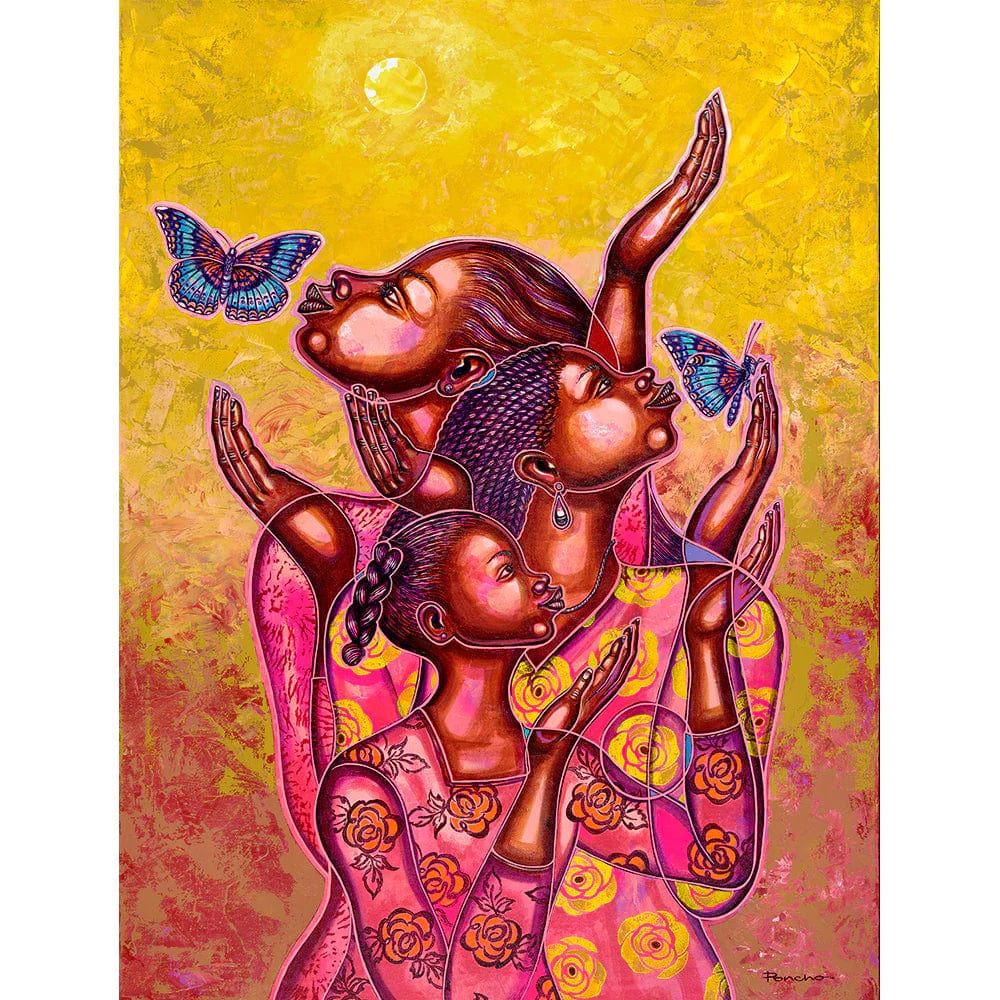 Remarkable Journey
Larry "Poncho" Brown
Regular price
$99.99
$99.99
Free Shipping on Orders over $100.00
30 Day Refunds Policy
Buy Online and Pickup in Store
Buy Now Pay Later Available
Limited edition. Edition size of 850 (standard limited edition), 100 (artist proof) and 50 (remarques).
Measures 28x22 inches in size.
Created and commissioned in 2016 by The Center for Remarkable Women, Inc.
Offset Lithograph
Ships signed and numbered and with a certificate of authenticity from the artist.
Once a young girl with dreams fluttering within her like delicate butterfly wings, she embarked on a remarkable journey of self-discovery. Through her youth and teenage years, she faced challenges and metamorphoses, akin to the transformation of a caterpillar into a magnificent butterfly. The community she grew up in served as the nurturing environment that allowed her to spread her wings and soar. Encouraged by mentors, family, and friends, she discovered her passions and talents, blossoming into a confident young woman.
Like a butterfly dancing amidst vibrant flowers, she embraced her uniqueness and embraced the beauty of her own journey. With each obstacle she faced, she learned to overcome and adapt, her spirit evolving and gaining strength. As she stepped into adulthood, she carried the lessons and support of her community, forever grateful for the transformative power of love, encouragement, and a safe space to grow.
This limited edition work of art was created and commissioned in 2016 by The Center for Remarkable Women, Inc. to commemorate their 10th Anniversary.
The Center for Remarkable Women was birthed from the idea that not only do we want to transform the lives of women but also we desire to touch and transform the lives of young girls and senior women. Using the Remarkable Women Ministry, God has transformed the lives of hundreds of women over five years.  Many women from the program have gone on to write books, attain higher degrees of education and pursue small business ventures. For some, the transformation is as profound as connecting with a parent or loved one for the first time in years.  Women have realized that possibilities are endless when you set out to achieve your full potential.
Offset lithograph. Ships signed and numbered and with a certificate of authenticity from the artist. Edition size of 850 (standard limited edition), 100 (artist proofs), and 50 remarques.
| | |
| --- | --- |
| Edition | Limited Edition |
| Framed | Unframed |
| Height | 28 inches |
| Length | 22 inches |
| Medium | Paper |
| Signed | Ships signed and numbered by the artist. |
| SKU | poncho-remarkable |
Larry "Poncho" Brown
Larry "Poncho" Brown, a native of Baltimore, MD, is a renowned artist known for his captivating and diverse body of work. With a career spanning over several decades, Poncho emerged as a talented signwriter at the young age of 17 and has since dedicated his life to the world of art. Holding a Bachelor's degree in Fine Arts from the Maryland Institute College of Art, he has graced the pages of esteemed publications such as Upscale, Ebony, Essence, and Jet magazines with his extraordinary art, both fine and commercial. Poncho's creations have also garnered attention in various television shows and movies, including "A Different World," "The Wire," and "Soulfood," captivating audiences with his vibrant and thought-provoking pieces. With a client list boasting esteemed names like Camille Cosby and Anita Baker, as well as his works displayed in prestigious institutions like the Charles H. Wright Museum of African American History, Poncho's influence and appeal extend far and wide. Alongside his artistic pursuits, Poncho is dedicated to philanthropy, having founded Raising The Arts, a platform that has contributed over 70 images to support non-profit organizations and African American causes. Additionally, he co-founded the Creative Quarantine, a collaborative effort with fellow artists, where the month of January is dedicated to creating new experimental works. Poncho's art resonates with admirers for its captivating rhythm, movement, and unity, as he skillfully merges past and present artistic stylizations to convey a sense of realism, mysticism, and beauty. Through his creations, Poncho pays homage to his personal values and consistently explores themes of unity, family, and spirituality, making his art universally appealing and awe-inspiring.
Limited edition artwork ships in 0 to 14 business days depending upon the artwork, artist and medium. All limited editions ship signed and numbered and with a certificate of authenticity from the artist. When a limited edition work of art is purchased a member of our team will contact you within 1 to 3 business days to provide you with a shipping timeline. Some limited editions are not eligible for expedited shipping. For additional information please visit our: Special Note About Limited Editions