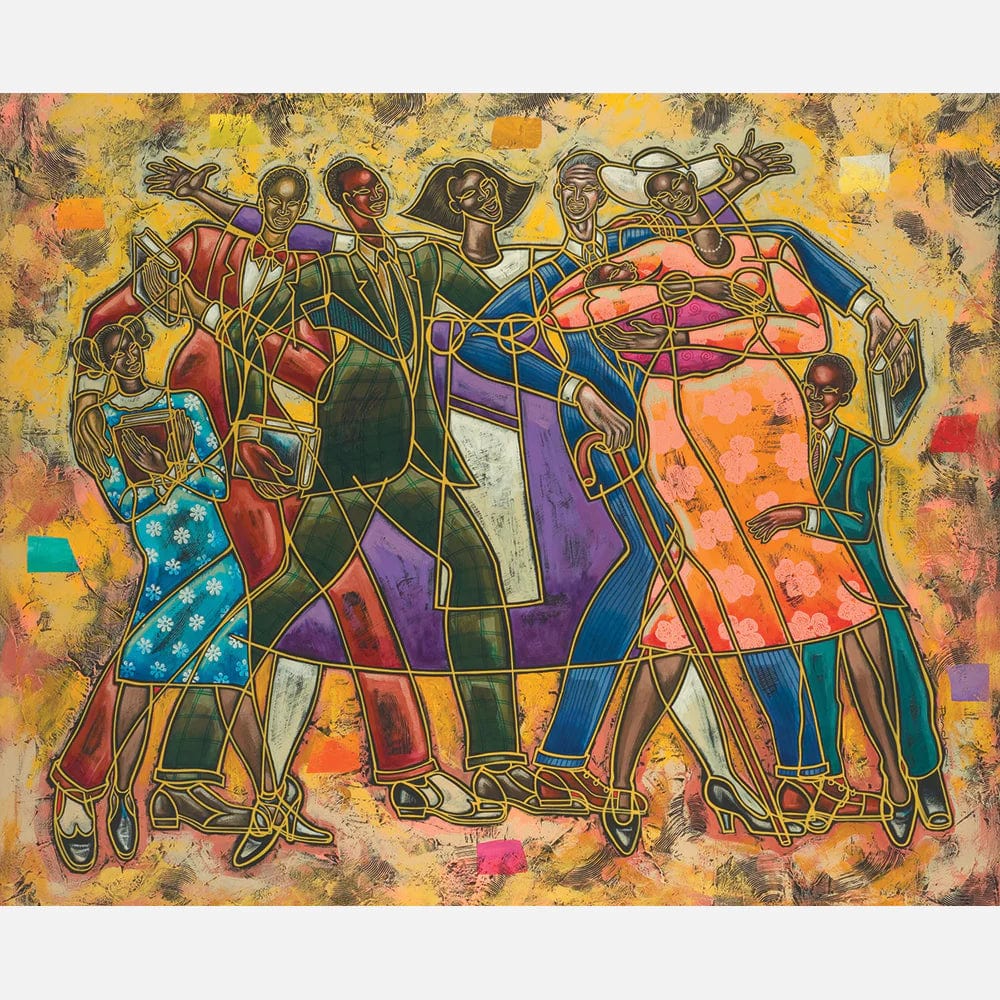 Praise the Lord with Gladness
Larry "Poncho" Brown
Regular price
$99.99
$99.99
Free Shipping on Orders over $100.00
30 Day Refunds Policy
Buy Online and Pickup in Store
Buy Now Pay Later Available
Limited edition. Edition size of 850 (standard limited edition) and 100 (artist proofs) and 50 (remarques)
Measures 22x26.5 inches in size.
Ships signed and numbered and with a certificate of authenticity from the artist.
Inspired by Psalms 100:2-4
Offset Lithograph
"Serve the Lord with gladness: come before his presence with singing. Know ye that the Lord he is God: it is he that hath made us, and not we ourselves; we are his people, and the sheep of his pasture. Enter into his gates with thanksgiving, and into his courts with praise: be thankful unto him, and bless his name." - Psalm 100:2-4
This scripture speaks of the importance of joyful worship, acknowledging God's sovereignty, fostering unity and belonging, practicing gratitude, and intentionally seeking God's presence through worship and praise.
By embracing these lessons, a church community can grow stronger, deepen its relationship with God, and experience the blessings that sprout from communal worship and fellowship.
This religious themed release was inspired by this biblical scripture and the lessons it is trying to teach the faithful. It was created and originally commissioned by Epworth United Methodist Chapel of Baltimore, MD in 2006 to commemorate their 50th Anniversary.
Limited edition. Offset lithograph. Edition size of 850 (standard limited edition) and 100 (artist proofs) and 50 (remarques). Ships signed and numbered with a certificate of authenticity from the artist.
| | |
| --- | --- |
| Cert. Of Authenticity | Ships with a certiticate of authenticity from the artist. |
| Edition | Limited Edition |
| Edition Size | 850 |
| Framed | Unframed |
| Height | 22 inches |
| Length | 26.5 inches |
| Medium | Paper |
| Signed | Ships signed and numbered by the artist. |
| SKU | poncho-gladness |
Larry "Poncho" Brown
Larry "Poncho" Brown, a native of Baltimore, MD, is a renowned artist known for his captivating and diverse body of work. With a career spanning over several decades, Poncho emerged as a talented signwriter at the young age of 17 and has since dedicated his life to the world of art. Holding a Bachelor's degree in Fine Arts from the Maryland Institute College of Art, he has graced the pages of esteemed publications such as Upscale, Ebony, Essence, and Jet magazines with his extraordinary art, both fine and commercial. Poncho's creations have also garnered attention in various television shows and movies, including "A Different World," "The Wire," and "Soulfood," captivating audiences with his vibrant and thought-provoking pieces. With a client list boasting esteemed names like Camille Cosby and Anita Baker, as well as his works displayed in prestigious institutions like the Charles H. Wright Museum of African American History, Poncho's influence and appeal extend far and wide. Alongside his artistic pursuits, Poncho is dedicated to philanthropy, having founded Raising The Arts, a platform that has contributed over 70 images to support non-profit organizations and African American causes. Additionally, he co-founded the Creative Quarantine, a collaborative effort with fellow artists, where the month of January is dedicated to creating new experimental works. Poncho's art resonates with admirers for its captivating rhythm, movement, and unity, as he skillfully merges past and present artistic stylizations to convey a sense of realism, mysticism, and beauty. Through his creations, Poncho pays homage to his personal values and consistently explores themes of unity, family, and spirituality, making his art universally appealing and awe-inspiring.
Most in stock items ship in 0 to 5 business depending upon the shipping method selected during checkout. Large framed artwork requires an additional 1 to 5 days of processing time to allow for framing. All orders over $250 ship signature required.  Pre-Orders, identified by a "Reserve Now" checkout button, can take 3 to 14 business days to process and ship.  If there is an issue with your order we will notify you with 1 to 2 business days. For additional information please visit our: Shipping Policy