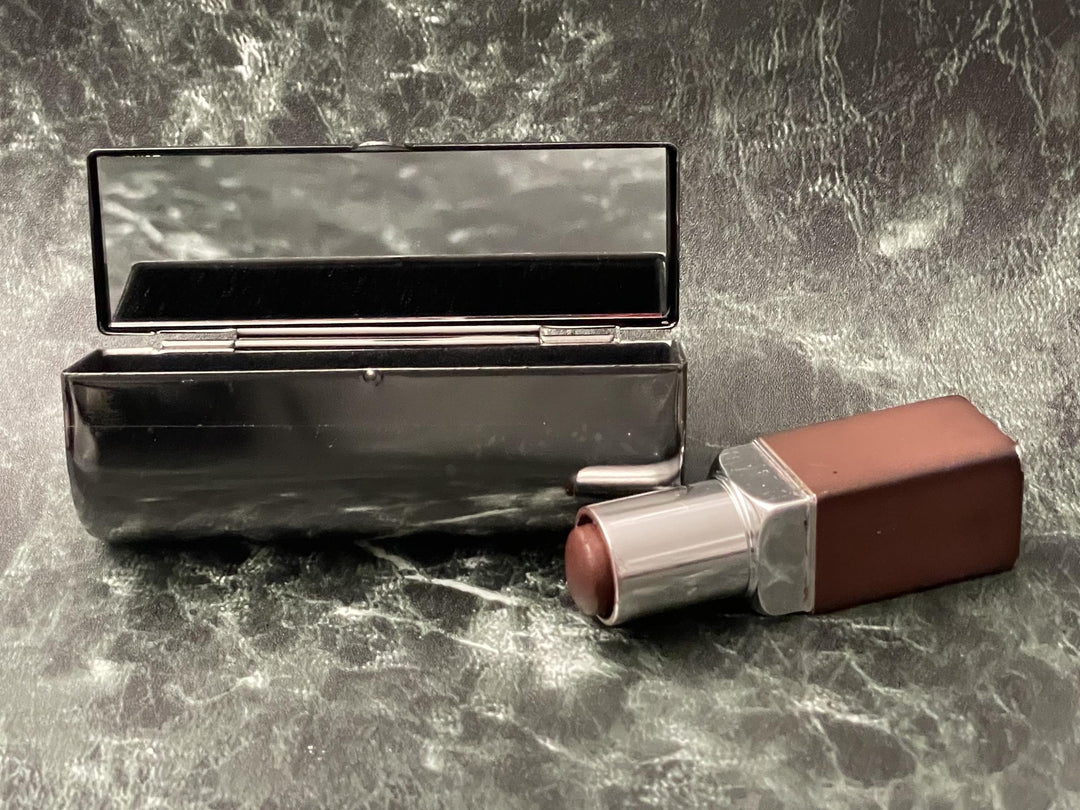 Fellowship of the Divine Divas Lipstick Mirror Case
David W.M. Cassidy
Free Shipping on Orders over $100.00
30 Day Refunds Policy
Buy Online and Pickup in Store
Buy Now Pay Later Available
Measures 3.45 inches (Length) x 1.25 inches (Height) x 1.25 inches in size and the mirror measures 3,25 inches (Length) x 1 inch (Height) in size.
Made out of a durable pearl black metal alloy with a smooth felt inner lining.
Ensures safety of your favorite lipsticks or lip balms, safeguarding them from damage, smudging, and melting when stored in your bag or purse.
Maintains the cleanliness of your lipstick, preserving its hygiene and protecting it from outside contaminants.
Featuring the art of David W.M. Cassidy
A beautiful yet sturdy lipstick mirror case inspired by the members of Divine Nine sororities featuring an epoxy dome adorned with artwork from David Cassidy. It depicts a member of Sigma Gamma Rho, Alpha Kappa Alpha, Delta Sigma Theta and Zeta Phi Beta fellowshiping with one another at a church service.
This lipstick mirror case was meticulously crafted to empower, beautify, and offer both protection and convenience. Constructed from durable pearl black metal alloy, it ensures the safety of your favorite lipsticks and lip balms, safeguarding them from damage, smudging, and melting when stored in your bag or purse. Moreover, it diligently maintains the cleanliness of your lipstick, preserving its hygiene and protecting it from outside contaminants.
With its compact design and high-quality glass mirror, this lipstick case becomes your trusted companion for on-the-go touch-ups. The mirror provides effortless and precise application of lipstick or lip balm, allowing you to beautify with ease. Measuring 3.25 x 1 inch, it generously offers ample space to see your lips clearly, ensuring flawless results.
The smooth felt inner lining adds a touch of luxury, enhancing the overall experience. Meanwhile, the case's sleek and shiny exterior imparts sophistication, making it a perfect accessory for any look or occasion.
Designed for individuals who appreciate functional art, this lipstick mirror case serves as a thoughtful gesture, combining beauty, utility, and cultural significance. It embodies the essence of David Cassidy's artwork and carries a powerful message of inspiration, self-expression, and empowerment.
The lipstick mirror case measures 3.45 inches (Length) x 1.25 inches (Height) x 1.25 inches (Width) and weighs only 0.15 lbs, ensuring portability and convenience.
| | |
| --- | --- |
| Edition | Open Edition |
| Height | 1.25 inches |
| Length | 3.45 inches |
| Medium | Pearl Black Metal Alloy |
| Signed | Unsigned |
| SKU | LMC199 |
| UPC | 723519092075 |
| Width | 1.25 inches |
| Year Released | 2022 |
David W.M. Cassidy
David W. M. Cassidy, a self-taught artist, writer, and ordained minister, hails from Compton and Los Angeles, California. With a background in Urban and Rural Studies and a Master of Divinity degree, Cassidy's artistic journey began as a cubist abstractionist oil painter. His bold and expressive style captivates viewers, while his keen attention to color and composition reflects his passion for detail. Cassidy's artwork is cherished by collectors in the United States and Africa. Additionally, he has contributed artwork to various projects, including publications for the United Methodist Publishing House and the African Methodist Episcopal Church. Cassidy's artistic voice emerges from the distinct genre of African American art, deeply influenced by shared historical and sociopolitical realities. His paintings evoke emotions and tell stories through intersecting images, employing a technique he calls ghosting. Cassidy invites viewers to delve into his artwork, allowing them to unravel hidden messages and engage in a dialogue between the lines.
Most in stock items ship in 0 to 5 business depending upon the shipping method selected during checkout. Large framed artwork requires an additional 1 to 5 days of processing time to allow for framing. All orders over $250 ship signature required.  Pre-Orders, identified by a "Reserve Now" checkout button, can take 3 to 14 business days to process and ship.  If there is an issue with your order we will notify you with 1 to 2 business days. For additional information please visit our: Shipping Policy