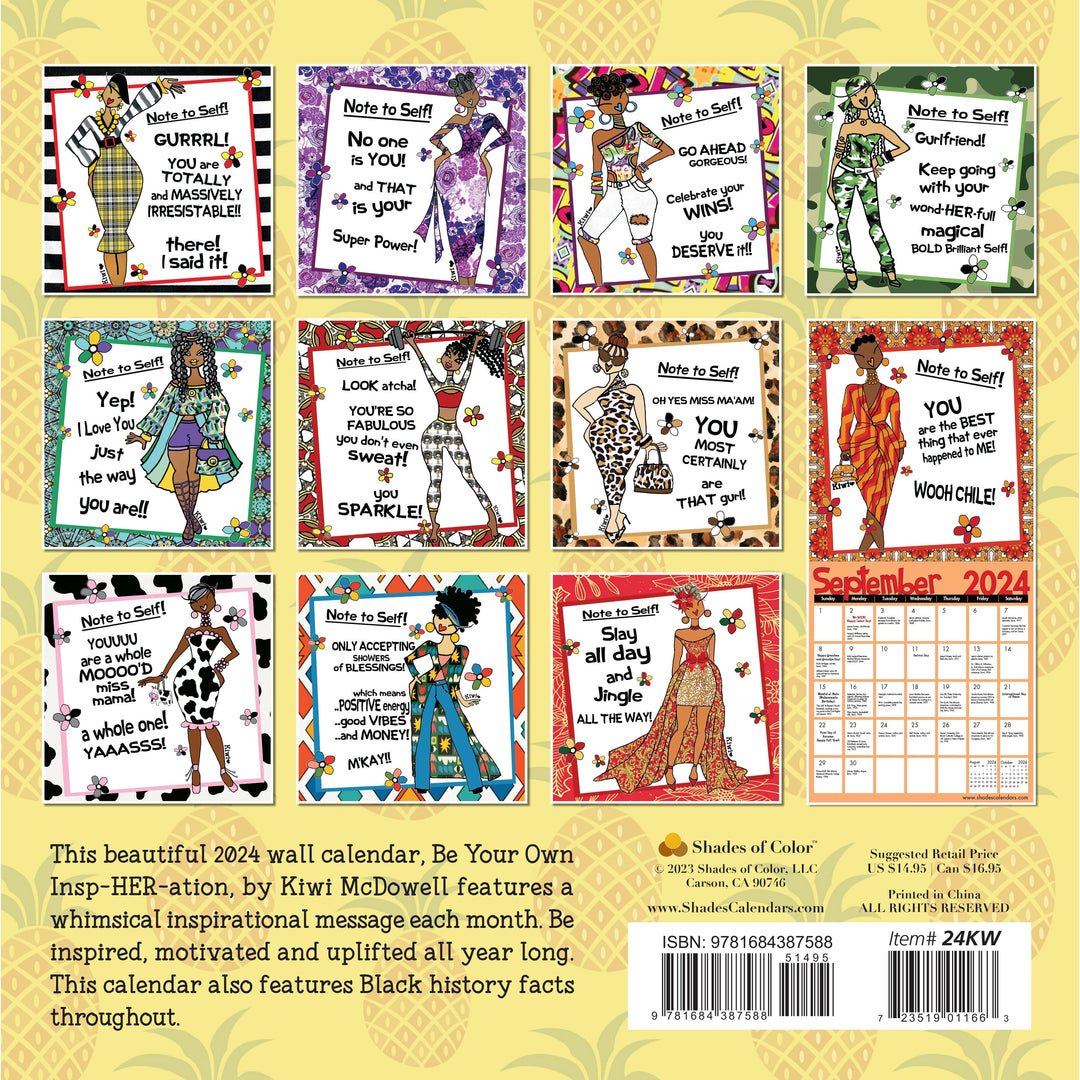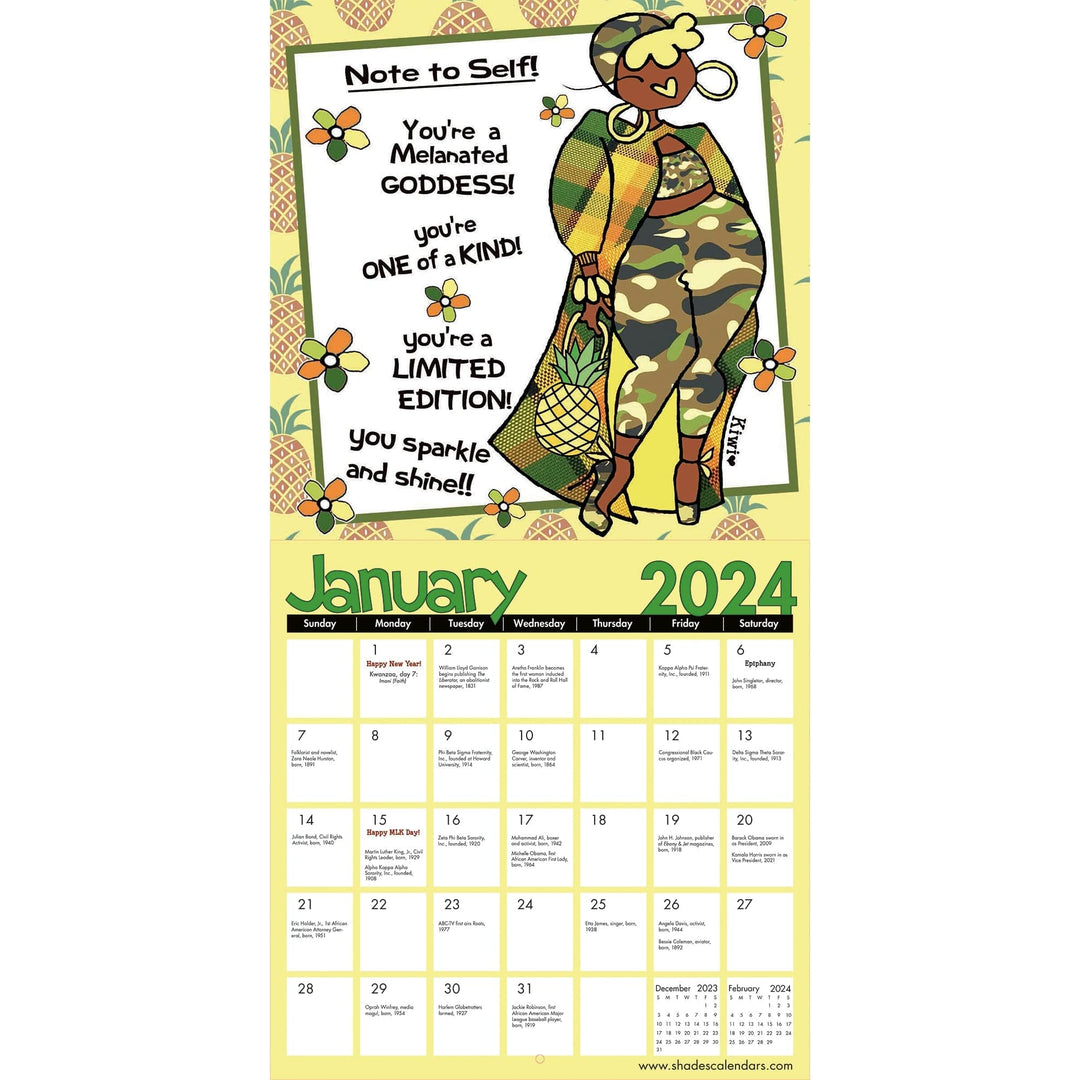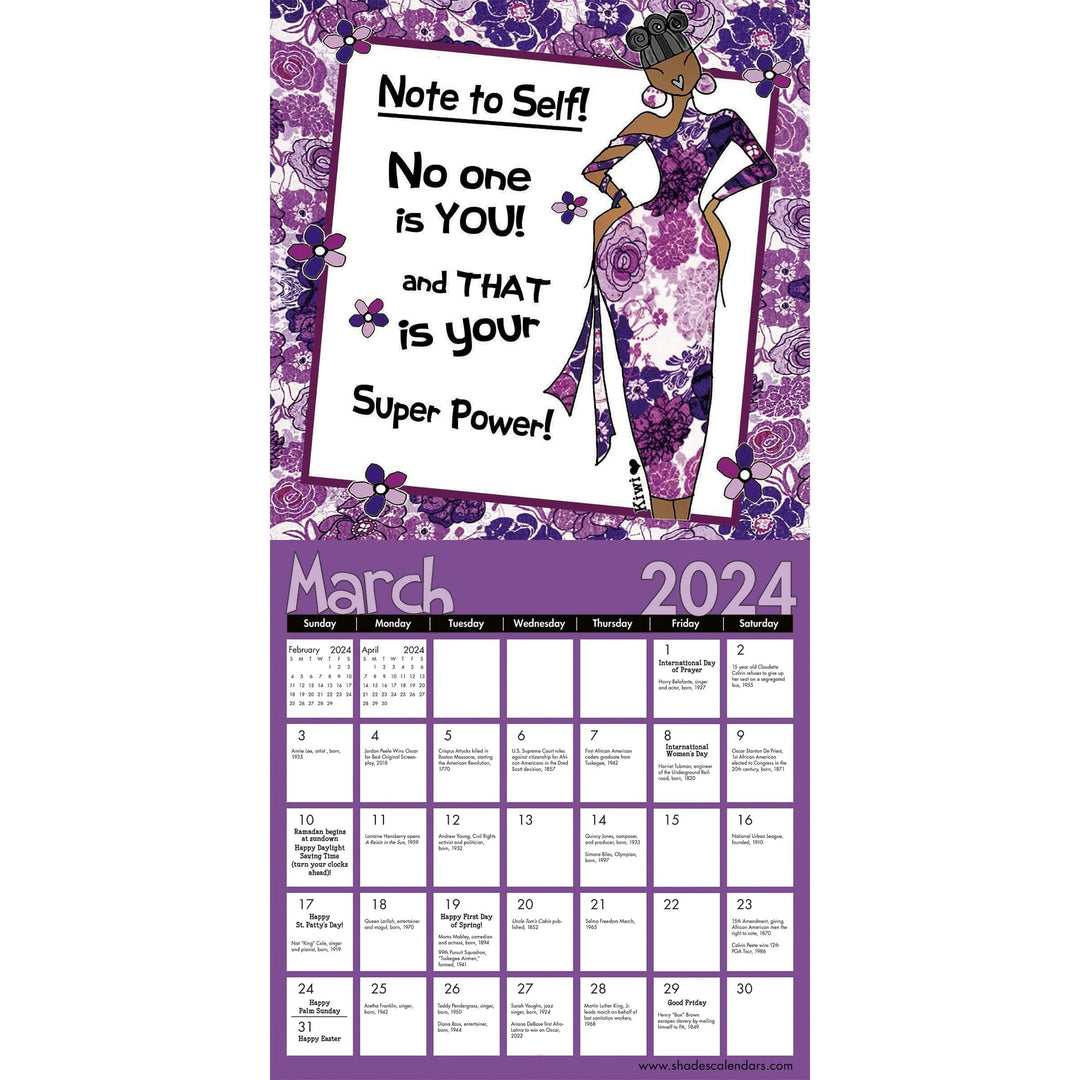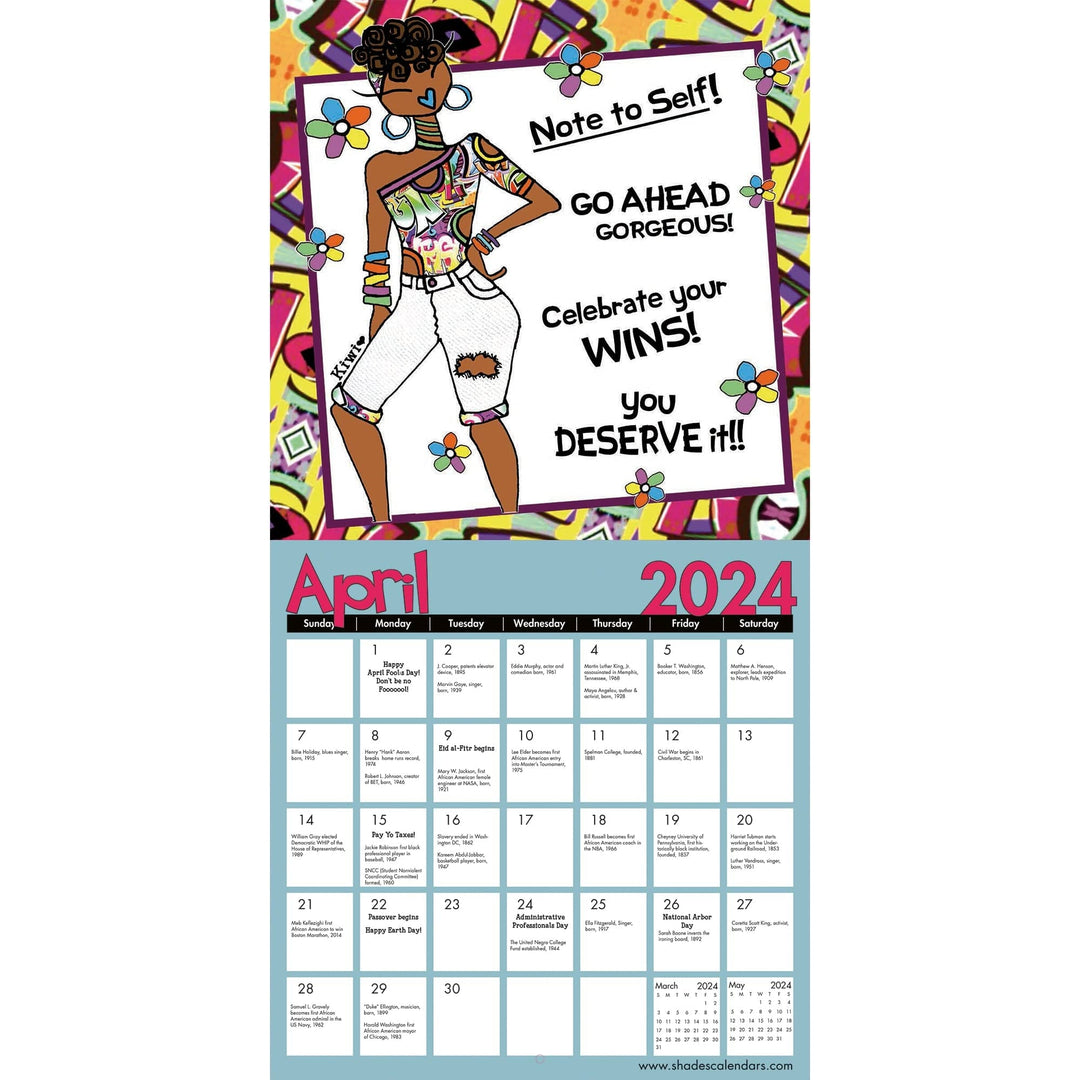 Be Your Own Insp-HER-ation: The Art of Kiwi McDowell 2024 Wall Calendar
Kiwi McDowell
Regular price
$14.95
$14.95
Free Shipping on Orders over $100.00
30 Day Refunds Policy
Buy Online and Pickup in Store
Buy Now Pay Later Available
2024 Wall Calendar
Features a mini view of the last four months of 2023 and full page views for each month of 2024.
Measures 12x12 inches (closed) and 24x12 inches (open).
Featuring public holidays and information on dates significant to the African American cultural experience.
All calendars include a matching envelope perfect for the gift giving season. Staple binding.
As a Melanated Goddess, it's time to illuminate your path and radiate brilliance with the Be Your Own Insp-HER-ation 2024 Wall Calendar by Kiwi McDowell. Infused with personality and character, this calendar empowers and motivates you to sparkle and shine each month.

Immerse yourself in the whimsical imagery of sassy and fabulous African American women, complemented by motivational messages that resonate deeply. In 2024, the calendar symbolizes growth and emerging from challenges into a year of amplified achievement. Kiwi McDowell encourages you to step into the new year ablaze with self-love and unwavering belief in your potential.

Born and raised in upstate New York and now residing in Atlanta, Kiwi McDowell's artistic journey began in 2002. From doll making to drawing, her evolution led to creating empowering and vibrant art. Her dedication to celebrating sisterhood is reflected in every piece.

Kiwi McDowell is the creator of FUN-tional art and Gurly gifts that invites you to embrace your sassy fabulousness. Her inspirational messages will keep you focused and motivated throughout the year.

Elevate your living space with this piece of functional art. Measuring 12x12 inches (closed) and 12x24 inches (open), it beautifies while serving a purpose.

Printed on high-quality paper, its full-color pages note public holidays and dates of significance to the African American cultural experience.

Ideal for home, office, or any place of worship. Makes a great gift for yourself or a loved one.

| | |
| --- | --- |
| Edition | Open Edition |
| Height | 12 inches |
| Length | 12 inches |
| Medium | Paper |
| Signed | Unsigned |
| SKU | 24KW |
| UPC | 723519011663 |
| Year Released | 2023 |
Kiwi McDowell
Kiwi McDowelll makes FUNtional art and other gurly gifts to inspi-HER women and celebrate their SASSY FABULOUSness! Born and raised in upstate New York, now living in Atlanta, Kiwi discovered she could draw in 2002! Originally a doll maker, she was FED UP with sewing and REFUSED to make one more STITCH! With hundreds of requests for the dolls still pouring in she decided to draw the dolls and the rest is HERstory!
Most in stock items ship in 0 to 5 business depending upon the shipping method selected during checkout. Large framed artwork requires an additional 1 to 5 days of processing time to allow for framing. All orders over $250 ship signature required.  Pre-Orders, identified by a "Reserve Now" checkout button, can take 3 to 14 business days to process and ship.  If there is an issue with your order we will notify you with 1 to 2 business days. For additional information please visit our: Shipping Policy