By Looking Back, Larry Poncho Brown can Continue to Create
By Looking Back, Larry "Poncho" Brown can Continue to Create
Larry "Poncho" Brown's 40-year retrospective book contains 300 pages of art
that spans across his entire career.  
Deeply Rooted, Larry Brown, 2019 (Courtesy the artist)
The conversation around legacy is framed as something that can be judged in the present.
"The events of today will be this president's legacy."
"Has Stephen Curry's fourth championship in 2022 cemented his legacy as the best player of his generation?"
The way to correctly identify legacy, involves remembering as the essential element -- not witnessing. Recounting the events that have led up to the penultimate discussion of one's place in a given pantheon is how legends are made.
The legacy of a president can't be fully examined until another individual has taken their place. An athlete's legend wholly depends on what becomes of the sport after they've long gone.
In short, a legacy has nothing to do with what someone accomplishes right now, but everything to do with what they've left behind.
Artistry works in the same way: how art is defined in its time begins with a shift in cutural relevancy.
"Time is moving so fast. Artists are not really aware of the history, renowned artist and now author, Larry "Poncho" Brown said in a phone interview with Black Art Depot discussing his new book.
In Poncho Retrospective – 40 years of the art of Poncho Brown, the Baltimore, Maryland native describes the period from 1985-2005 as a revolution – a "golden age of African American art" – for Black artists coming into the mainstream.
"I can say that now, man, we got so many artists that did so well; I'm talking about it was six, seven-figure artists during that period of time," Brown said.
"And you got a new crop of artists now in their 20s – 25,30 – they don't even know who those artists are. They might see a [Kevin "WAK" Williams] out in public and might see Charly Palmer, you might see a few of them that they may be familiar with. But to understand that revolution, and what was really happening in that particular time, it happened so fast that many of them don't have that as a point of reference.
This "Golden Age" was made relevant by the fact that Black art became more visible, more accessible. The influences of Black art – the experiential knowledge of a people – were made ready for consumption.
The preceding Black Arts Movement that some suggest spanned from 1965-1976 with groups such as AfriCOBRA, The Black Artists Group, and Barbara Ann Teer's National Black Theater insisted, on being recognized.  
Playwright and poet Amiri Baraka wrote at the time that art during the BAM had to be "identifiably Black, that it be mass art, and that it be revolutionary."
As professor of Pan-African Studies at the University of Louisville W.S. Tkweme notes, these groups taught that "the purpose of art was to aid in the cultural regeneration and political liberation of African American people; that artistic production should be independent of white control; that art should [be] directed towards and speak in the language of African Americans."
Visual arts as a medium for the Black Arts Movement, and the revolutions that followed allowed for a deeper, increasingly exoteric relationship with an audience.
"Artists are [sharing their stories] now in the vacuum because all the artists that were coming through that [Golden Age] movement are doing okay, they learned enough through that period to survive," Brown said.
"When you got a commodity and people follow you, and you understand that and you make that connection; …we got some [artists that are] doing some really, really big things. And it's because of the notoriety they receive in that [commercial] market, and the visibility they have with their works."
In the macro, Brown – born in 1962 – can articulate that the arenas fine artists and community-oriented commercial artists occupy have become more correlative.
The line of demarcation between the two is blurring as the Black artists that take up these spaces are working to lift and elevate each other.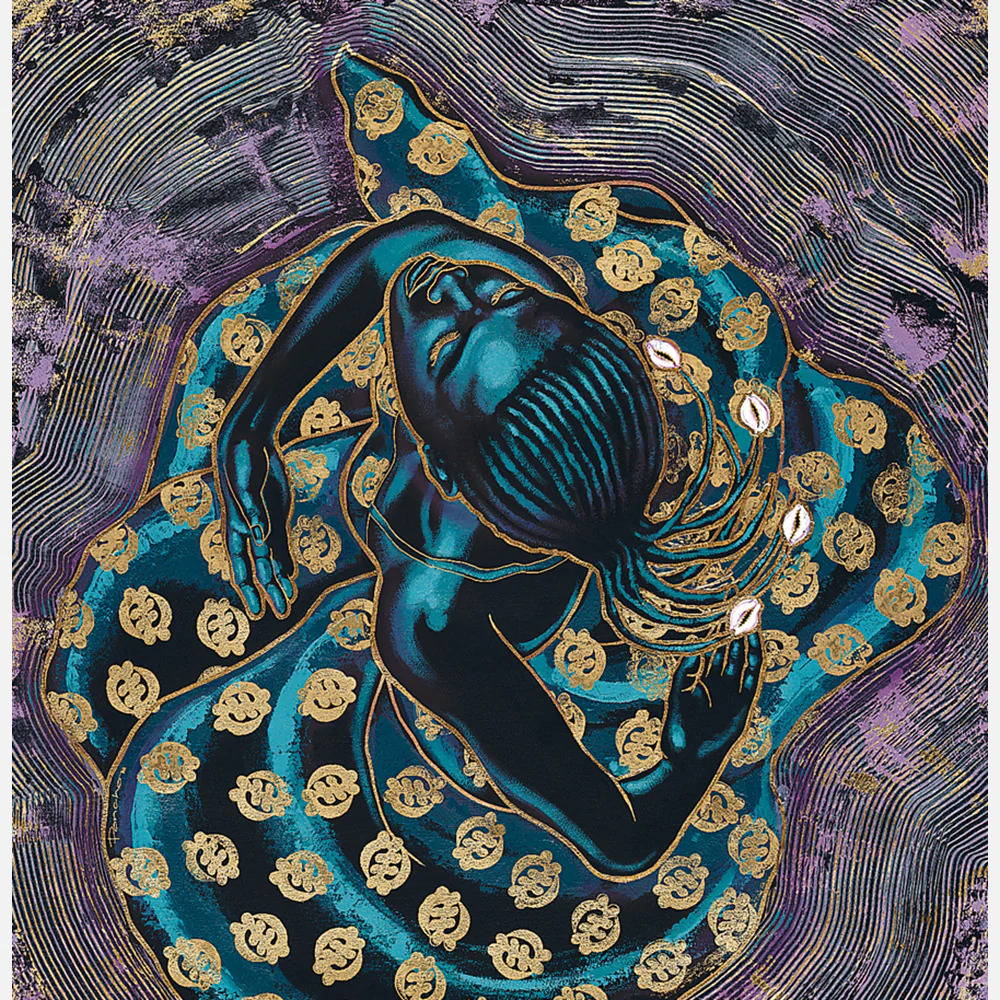 Divine Spirit, Larry Brown, 1996 (Courtesy of artist)
"Divisions in art are beginning to change," Brown writes in the book's foreword, moderated by Dr. Leslie King-Hammond.
Hammond is the founding director of the Center for Race and Culture at the Maryland Institute College of Art.
"Fine art was never intended for mass consumption, or for our community to appreciate Black artists," Brown continued. "…Artists from the fine art realm now are bridging a divide between commercially-successful artists."
Space is a multi-level concept that artists explore. Art makers deal with space in ways that define their practice and expose the depths of their creativity to their audience.
Retrospective, for Brown, is a look back on the breadth of space that he and his contemporaries vied to take up.
How does an artist define space? Especially as a commercial artist.
Brown came through the commercial art realm just as "there was an influx of artists that didn't go by the rules and regulations of the fine [art] market."
These artists were looking to establish an arena where the generation of creators after them would have multiple avenues of artistic reach and control.
"Now artists are now saying 'no, I can rent a space.' Or the return [of the] pop up came up in the late '90s," Brown explained. "I can rent a space and do my own exhibitions rather than waiting on the handful of galleries that may or may not find space or time for me will validate what I'm doing."
The legacy of an artist can't exist if the work doesn't spawn another iteration of artists that can build on the blocks of progress.
"And so you're watching another revolution now of artists beginning to use the power that they had,'' Poncho continued.
Why an artist embarks on the journey of conveying the points of pride and concerns of a people, according to Brown, comes from something bigger, ostensibly divine, while also being largely intrinsic.
Present in this notion is a kind of isolation that needs to be nurtured and fed.
A grounding in purpose is then a necessity.
Brown revealed in Retrospective he found that grounding in Carver Vocational High School instructor Chenal Alford.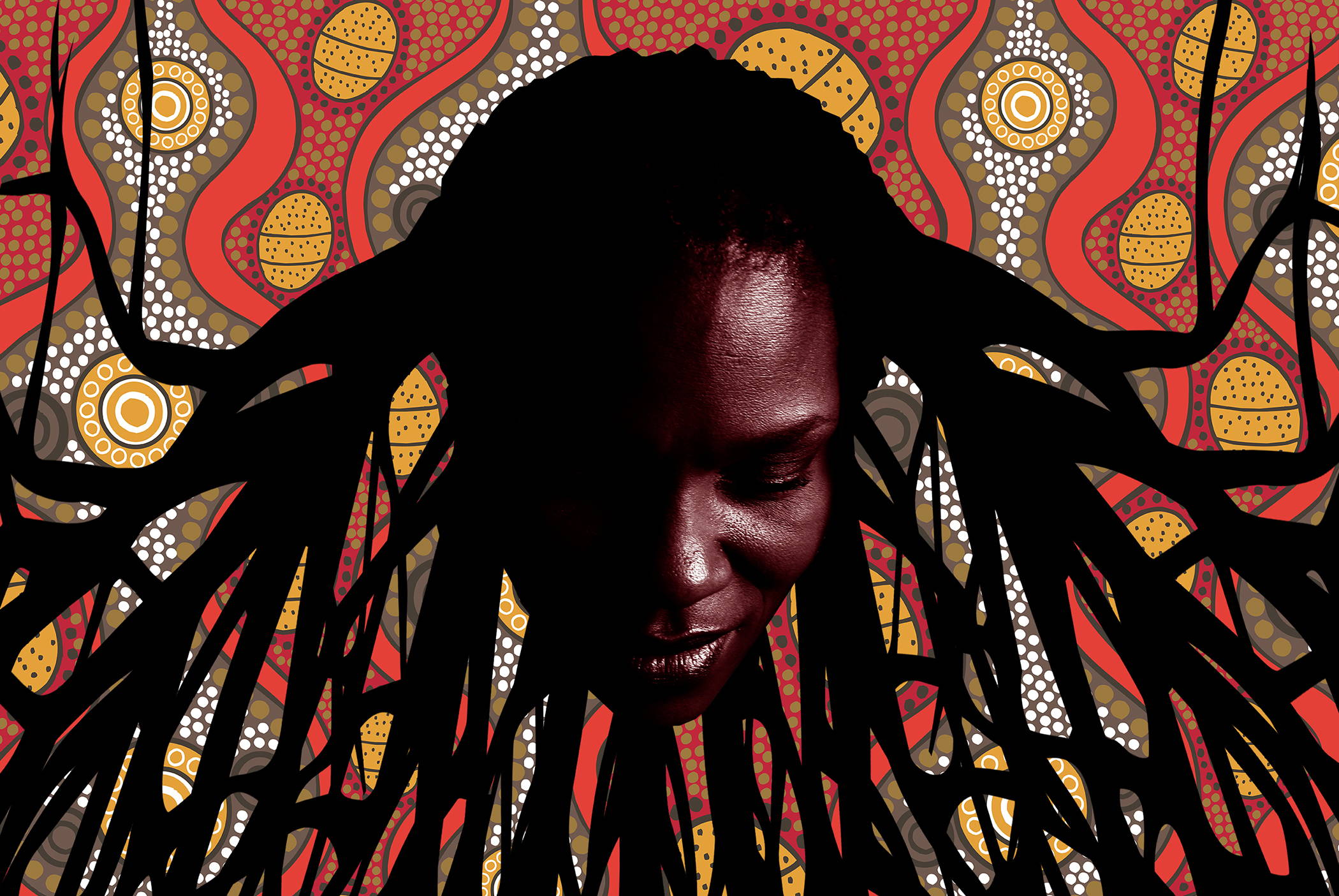 Bloodlines, Larry Brown, 2019 (Courtesy of artist)
Alford unlocked what Brown assessed as a "broadening of his Black consciousness."
"He completely altered my thinking when it came to religion, history, Blackness, and everything else that was soul searchingly expansive," Brown wrote.
Retrospective presents a paternal and educational connection point between Alford – who Brown deems as his second father – and Brown's birth father, Larry Brown, Sr.
Both Alford and Brown Sr. came of age as aspiring artists in the 50s and 60s – a time marred by Jim Crow, social and artistic segregation and discrimination.
Alford, who taught commercial art at Carver High, presented him with the refrain of "the white man will never allow you to do the kind of art you want to do, so let me teach you … and you will always eat."
The dearth of opportunities available "frustrated" Brown Sr. and prompted him to try and dissuade his son from choosing a life defined by invalidation.
A young Poncho wanted to recreate his father's passion for the arts even as Brown "didn't feel like [his] father wanted [him] imitating anything he was doing."
Both men shaped Brown as an artist in his formative years. They created a resolve and curiosity in him that prepared him for a world that had no interest in his voice.
"No, [my father] wasn't as nurturing as he could have been because he was trying to trick me out of [art] because he had been so frustrated with what was available to him," Brown said when describing his father's influence on his art.
"By the time I came along, some of those things had changed. And I already had made up my mind that this is what I was going to do – I ain't doing nothing else. So I look at it as all being part of one story, you know, who knows what it would have been, it could have been reversed if he was hugging me up and showing me how to make a circle. I don't think so.
I think that the way [ he raised me] and the limitations he had fueled me to do some of the things that I did and I don't think it would have worked any other way."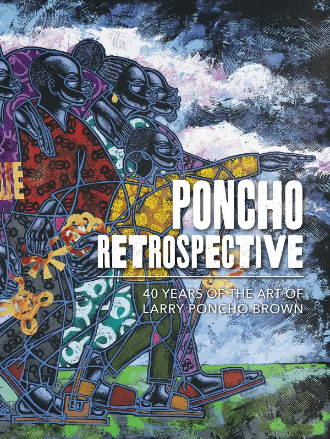 Retrospective, for Brown, is a look back on the breadth of space that he and his contemporaries vied to take up.

By examining this early portion of his development, Brown used Poncho Retrospective to retrace his steps back to the place where he formed this current version of himself.
In doing so, he may be able to fully take account of his current place as an artist and what comes next.
Poncho explicitly outlines the current state of his career. Poncho alludes to a recent diagnosis of cancer – this is what has pushed him into the "legacy aspect" of his career.
Brown is now dedicated to telling the stories of artists and the audiences they reached.
The audience and their needs are always at the forefront of Brown's work.
"[Artists of my era were] and everybody [else] was hustling and grinding, "Brown said. "It just wasn't drugs and numbers. It was art for a change. That's the easiest way I can describe it. And we had all these people who were longing to see themselves depicted, that it was like the perfect storm. Sometimes you get the perfect storm of stuff that aligns – that's where the evolution – that's where the revolution comes from."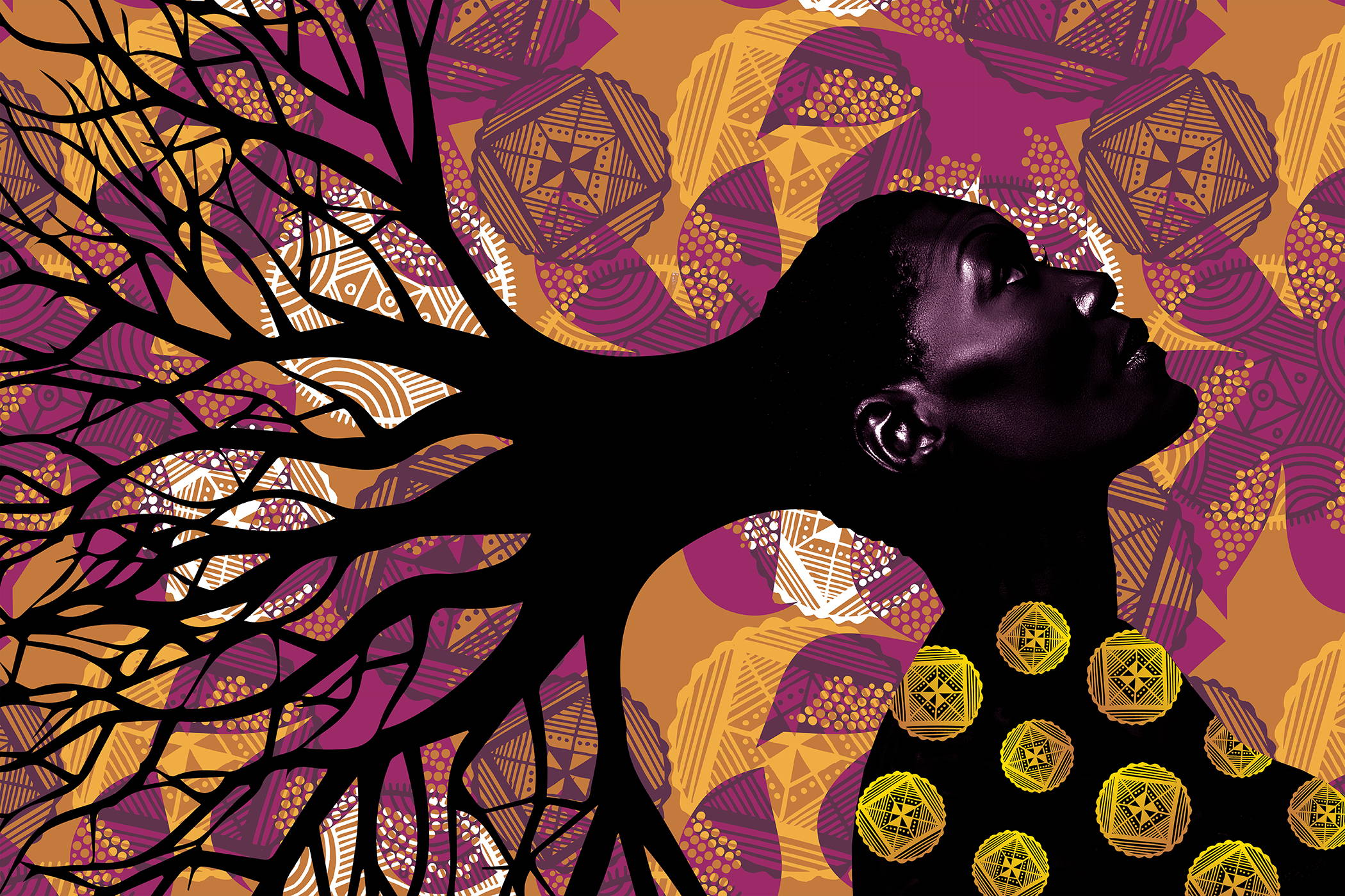 Seeds of Wisdom, Larry Brown, 2019 (Courtesy of artist)
How will Brown be remembered?
Retrospective in the grand scheme doesn't answer this, as it most likely wasn't meant to.
Brown is still an active artist, who is set on championing the younger set of artists.
Those who are coming after him.
"You talk about the next generation of possible legends, but until we get to that breakdown of this [fine versus commercial], who gets the light and who doesn't, we might be in a little bit of a problem, because we are running out of legends," Brown predicts.
"…There's going to be quite a few from the commercial market that's going to get light, because of this natural evolution of things that's happening right now, especially with the upsurge in the popularity of African American artwork now.
That will then be the time to discuss the legacy of Poncho Brown.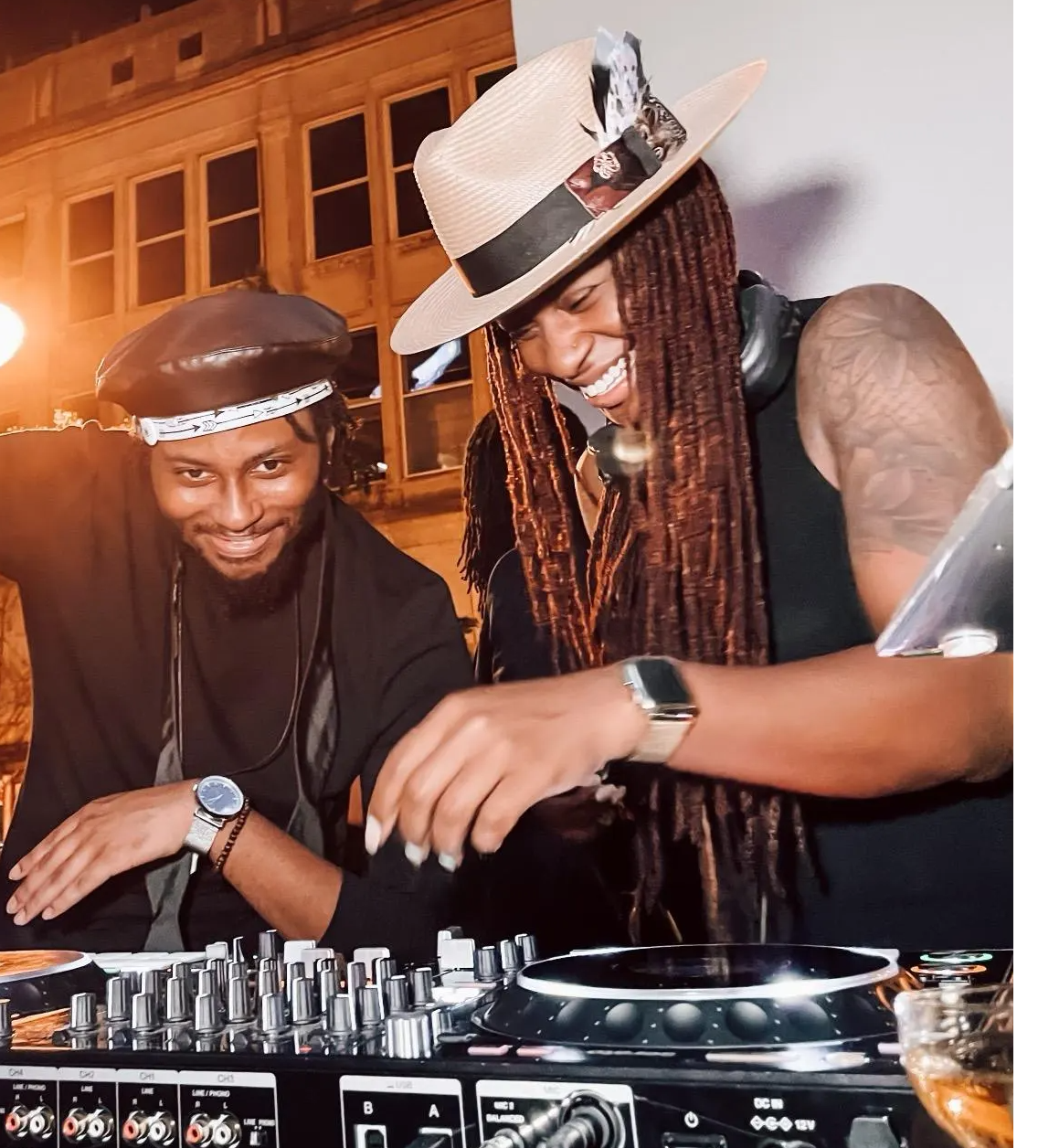 Daniel Richardson is from Southwest, GA which makes him Southern, but not country. He has lived in Atlanta for nearly a decade where he attended and graduated from Atlanta Metropolitan State College and Georgia State University where he completed an undergraduate degree in Journalism.
To Daniel, art gives him the ability to study the stories of the Black experience and explore it more fully.
Contact Daniel Richardson on: Twitter
---