EuGene Byrd III and Future Gallery Show Originality in Giclee Exclusive Exhibit
Limited Edition: EuGene Byrd III and Future Gallery Show Originality in Giclee Exclusive Exhibit
Kevin "WAK" Williams, EuGene Byrd III, Charly Palmer and Dubleyoo showcase reproductions of their work at Atlanta's Future Gallery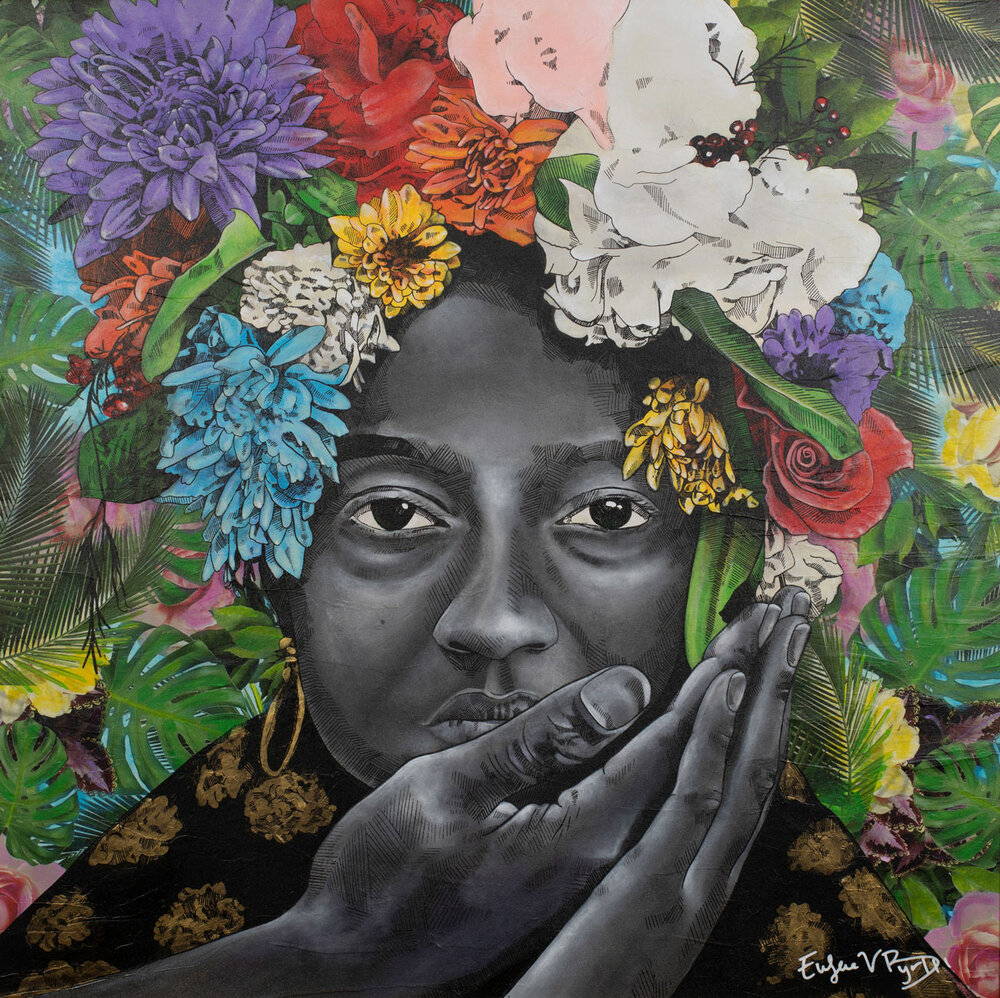 We are the ones this time, EuGene Byrd III (Courtesy the artist)
Artists create worlds with their work. Black artists, in particular, are reaffirming and re-narrating the worlds that Black folks inhabit. The conversations between artist and audience are more meaningful the more participants there are. World-building is not a job that dissuades inclusion – inclusion is how the world sustains itself.
Moreover, the relationship between artist and collector is naturally symbiotic. This symbiosis is presented in EuGene Byrd III's We are the ones this time.
A young, Black girl with her shoulders covered in a black shawl with gold embellishments accented by her large gold hoop earrings. Her eyes are piercing as they contact the viewer – almost immediately initiating conversation.
Flowers of orange, golden-yellow, white, lavender, and powder blue drape the crown of her head and focus her stoic gray-scale expression, separating her from the garden background. The piece's primary focus is the strong, comforting hand placed on her cheek as she places her smaller, affirming hand onto theirs -- returning the apparent love and care.
Byrd will display this piece at Future Gallery for a Limited Edition Giclee show featuring Atlanta-based artists, Kevin "WAK" Williams, Charly Palmer, Dubleyoo, and Byrd. All of whom have found success in producing reproductions of their original work.

Kevin Williams/WAK, EuGene Byrd III, Dubelyoo, and Charly Palmer
(Courtesy of the artists)
This giving and receiving of love is the basis for the Limited Edition show that runs through June 11th.
Byrd curated the show intending to requite the love that his audience has unconditionally shown by creating more access to their work.
It is almost widely known in the high art arena there is a belief that reproductions of an artist's work can cheapen the collectability. Yet, Black artists understand that reproductions bolster the original message and allow multiple Black spaces to pass that message on.
"[W]e gotta let you know that this is for you because it is for you because I'm speaking to you through the art," explained Byrd. "It looks like you or somebody in your family. I come from where you come from, you know?
"You own it; honestly, without even having a physical piece of that, you have ownership of it. Because you contribute to the culture."
As Byrd looked around before the opening ceremony, while describing each artist's conversations through their displayed work, he happened upon a through-line: the beauty of the worlds they created.
The beauty of a re-narrated and self-owned story of Blackness is apparent in WAK's Love, Peace, and Soul. There is beauty in the mirrored qualities of femininity and masculinity in Palmer's I am a Man and Orbs. Prevalent in the show is how beautiful Black culture and individuality can be in Dubleyoo's Pop Sucks. The vulnerability of humanity possesses beautiful qualities that glow through Byrd's I'm starting to Understand.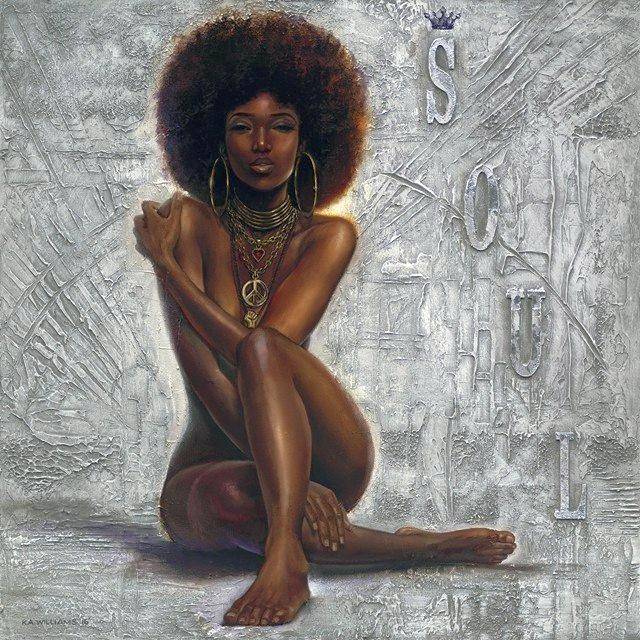 Love, Peace and Soul by Kevin Williams/WAK, 2017
(Courtesy of the Artist and The Black Art Depot)
The pieces on display have limited availability, but their reproductions create access to the effervescence of these worlds that would usually be unavailable due to the price of the original.
For WAK, participating in the giclee-reproduction exclusive showcase is about "cultivating collectors" and allowing artists to have a voice in the conversations their art sparks within the audience.
"I do believe that artists should have partnership within their creativity," the Queen artist explained. "I don't think anybody should have complete control of an artist. I think an artist can do business with [a gallery], they can have joint ventures, they can be equal partners, but the artists do have to have stock in themselves, it shouldn't be that you're waiting to just get paid, you should be able to pay as well."
This equity allows artist to continue the work of world-building and speaking to their audience, without having to over-extend their creative reach.
According to WAK, it was through famed artist Ernie Barnes' mentorship that he learned the lesson of artistic ownership.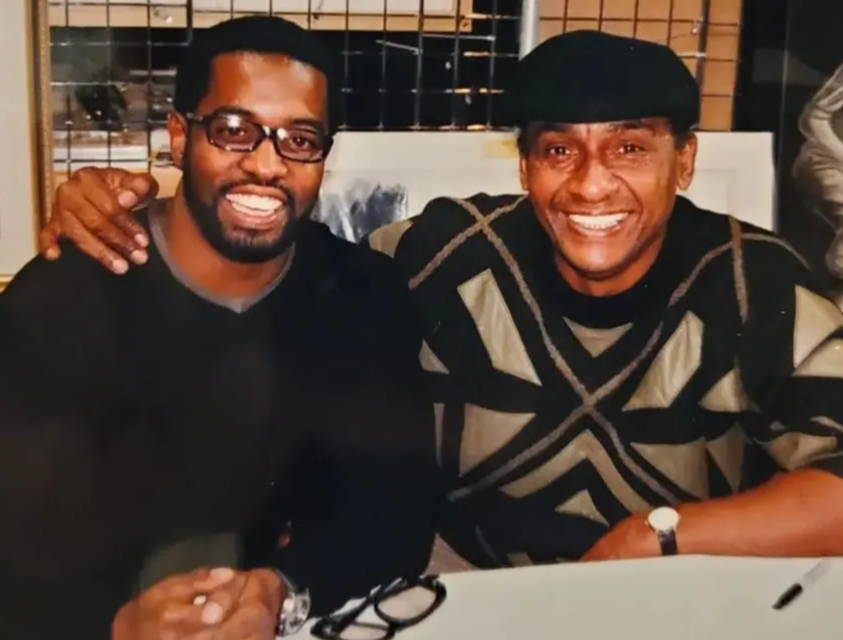 Kevin Williams/WAK (left) acknowledges that Ernie Barnes (right) was a major influence in understanding ownership
of an artist's creativity.
(Courtesy of Kevin Williams)
Apropos of the moment, the open edition Sugar Shack by Barnes, which has been in reproduction for decades, sold – its first time at auction – for $15.2 million in May.
"Ernie Barnes controlled his work," said WAK, speaking on the monumental sale. "…Sugar Shack is $300; take it or leave it. That's a lot of power."
"There's understanding that he understood his worth; he understood his power," he continued later.
"He understood his licensing of his creativity, and he wanted compensation for it. The myth was that that will hurt any level of collectability in the fine art world -- [$15.2 million] said differently."
The sale of Sugar Shack and its starting valuation of only $150,000 heading into the opening ceremony of the giclee-reproduction show also gave Byrd perspective on the perceived value of Black Art.
"That [sale] was timely for my argument and really a lot of artists' arguments," Byrd said. "We definitely got to say 'shame on you' out loud for devaluing our damn culture and not keep letting [appraisers] get away with that.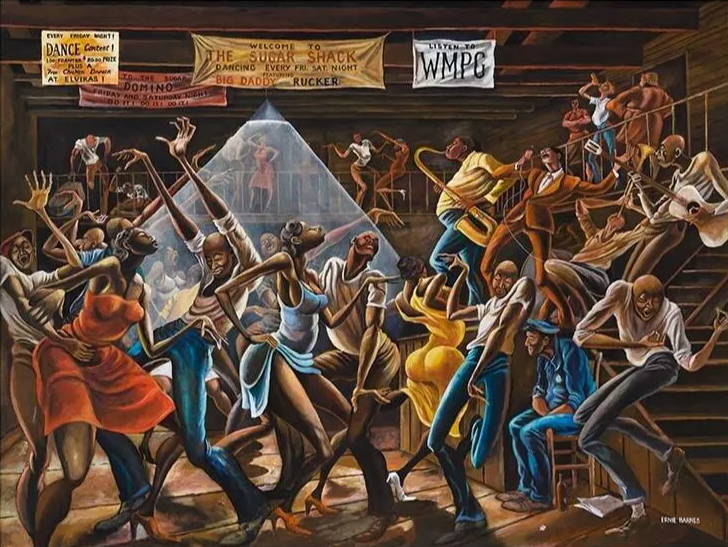 Sugar Shack by Ernie Barnes
(Courtesy of the Estate of Ernie Barnes and The Black Art Depot )
Byrd believes that the show will open the eyes of collectors and appraisers to understanding Black ownership of Black stories and spaces in art is revolutionary.
"The shift isn't really honestly making giclee and doing reproductions," Byrd says. That's not the constant shift. The constant shift of artists is saying, 'Oh, look, I actually have the power. Oh, look, I'm actually in control of my product. I make the rules.' That's the shift."
Mind, Body, and Soul, Kevin Wiliams/WAK (left) Love, Peace and Soul, Kevin Williams/WAK (right)
(Photo Credit: Daniel Richardson)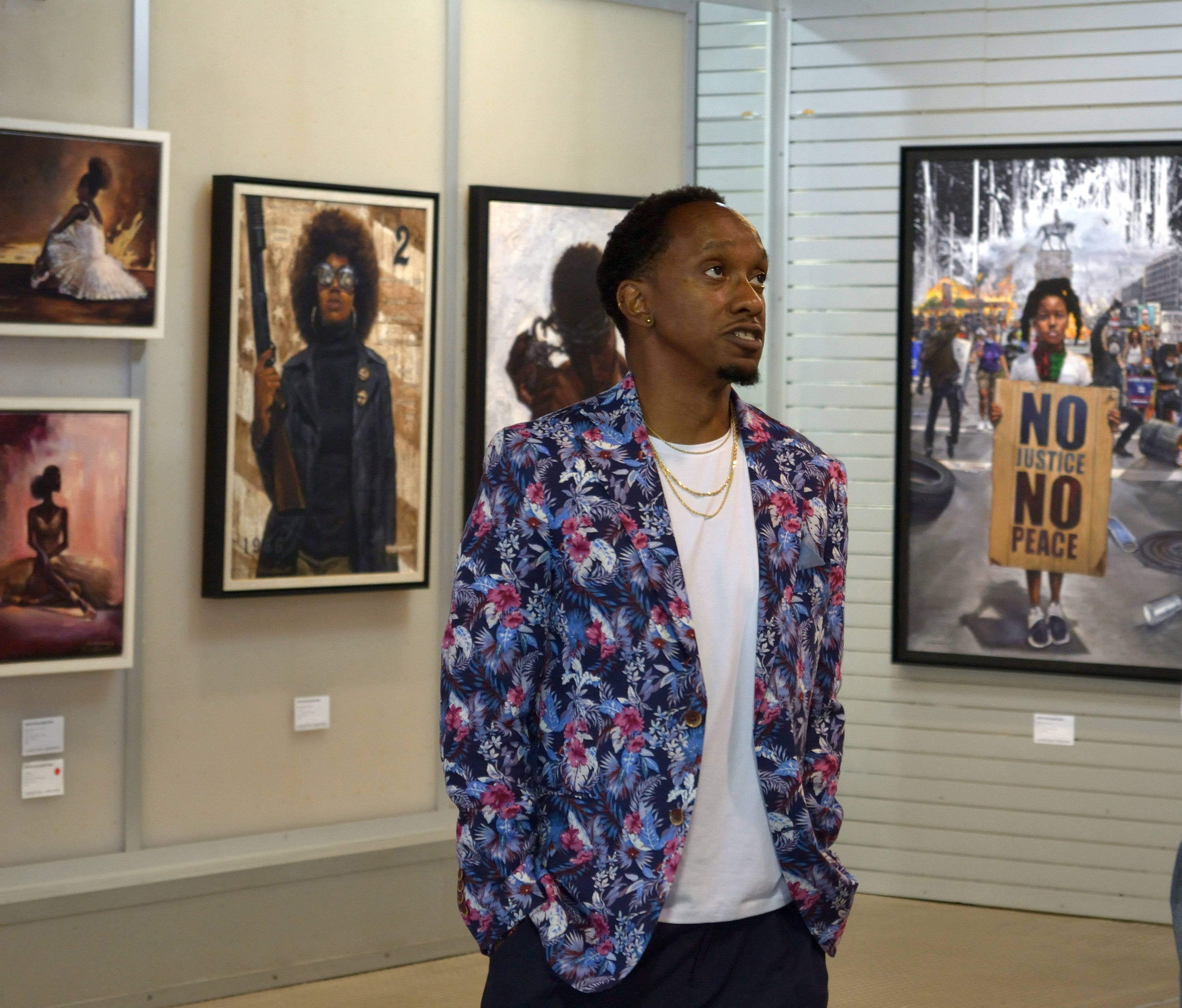 EuGene Byrd III speaking with the public during his Limited Edition Giclee show at Future Gallery.
(Photo Credit: Daniel Richardson)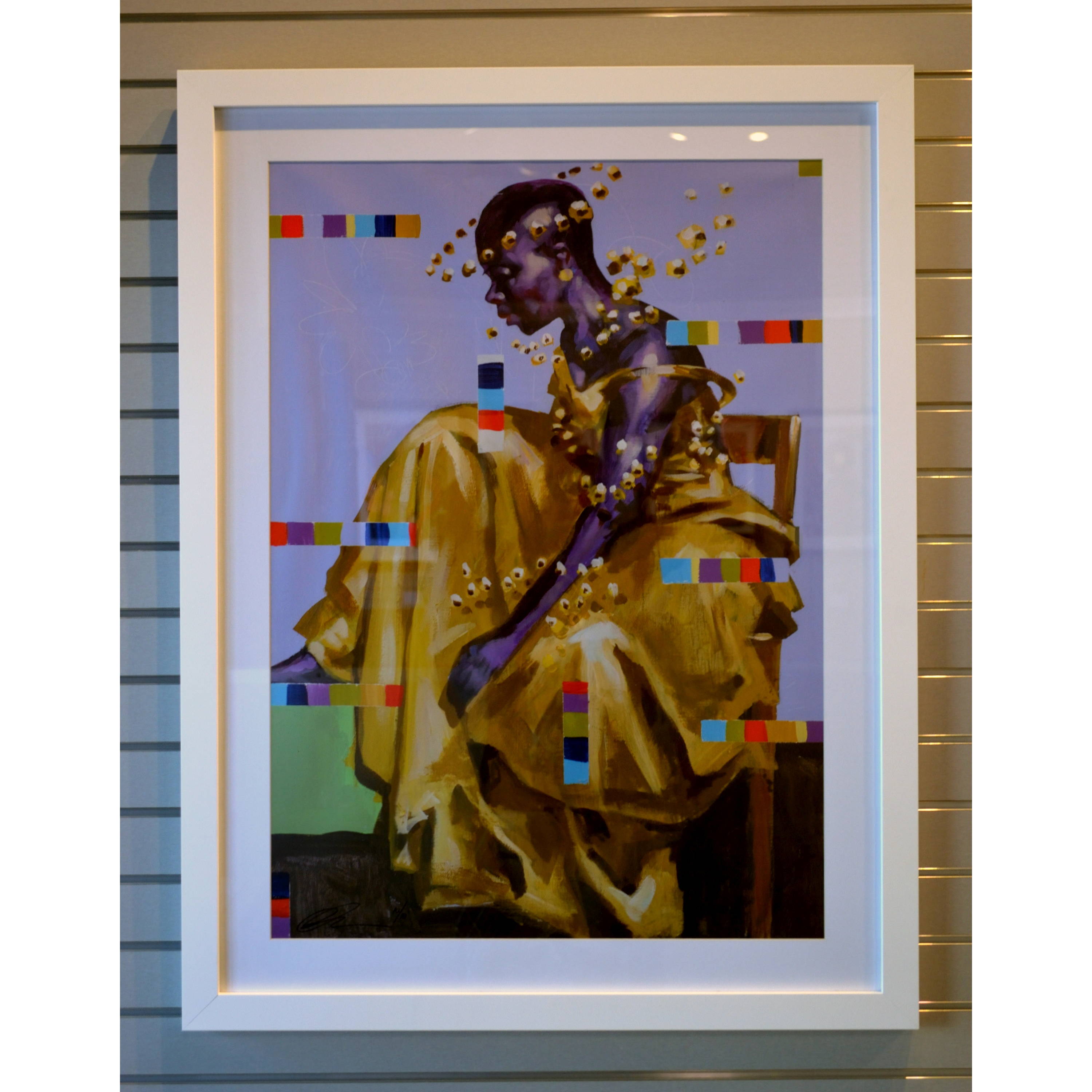 Orbs, Charly Palmer
(Photo Credit: Daniel Richardson)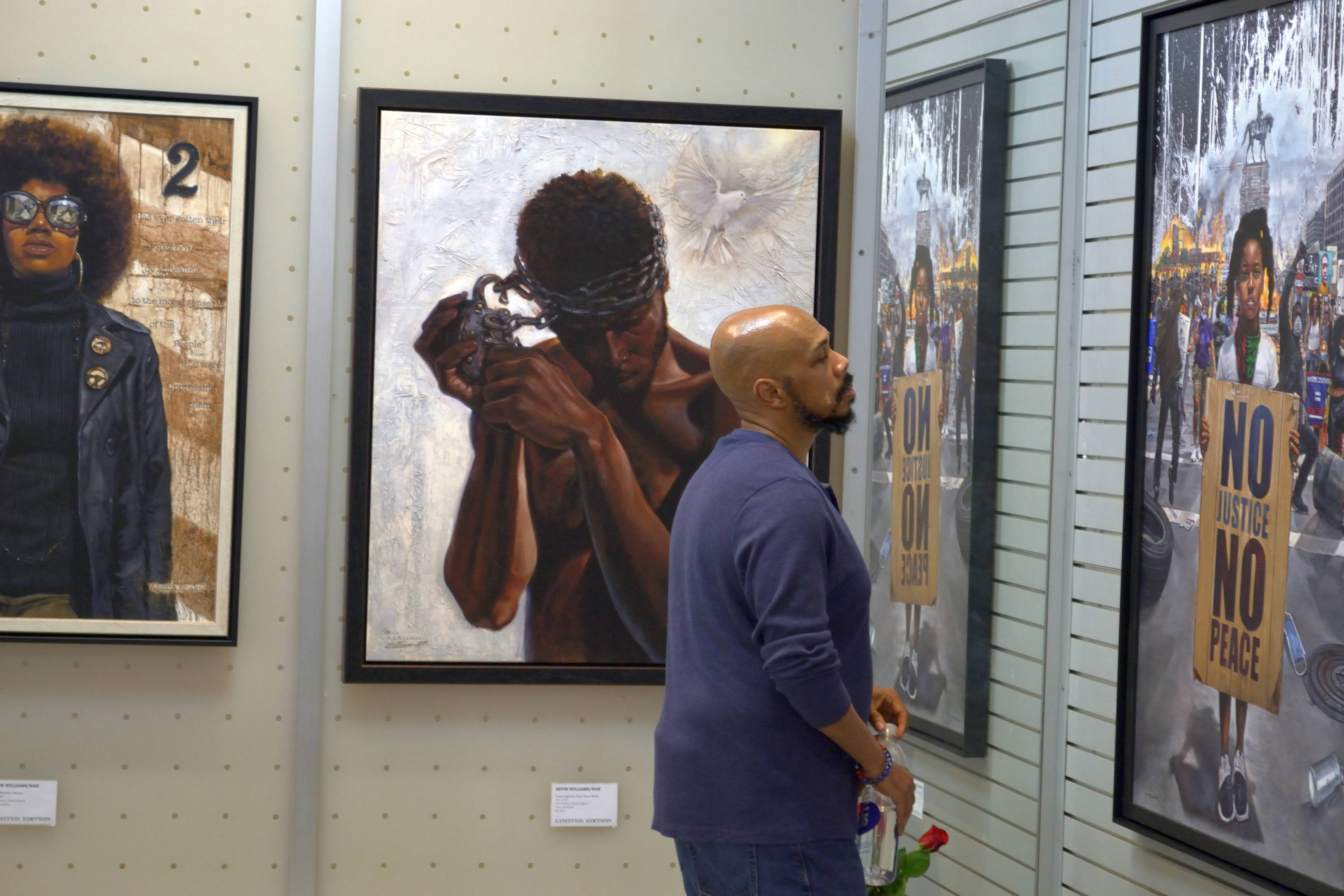 Patron viewing Civil Unrest by Kevin Williams/WAK during Future Gallery's Limited Edition Giclee Show.
(Photo Credit: Daniel Richardson)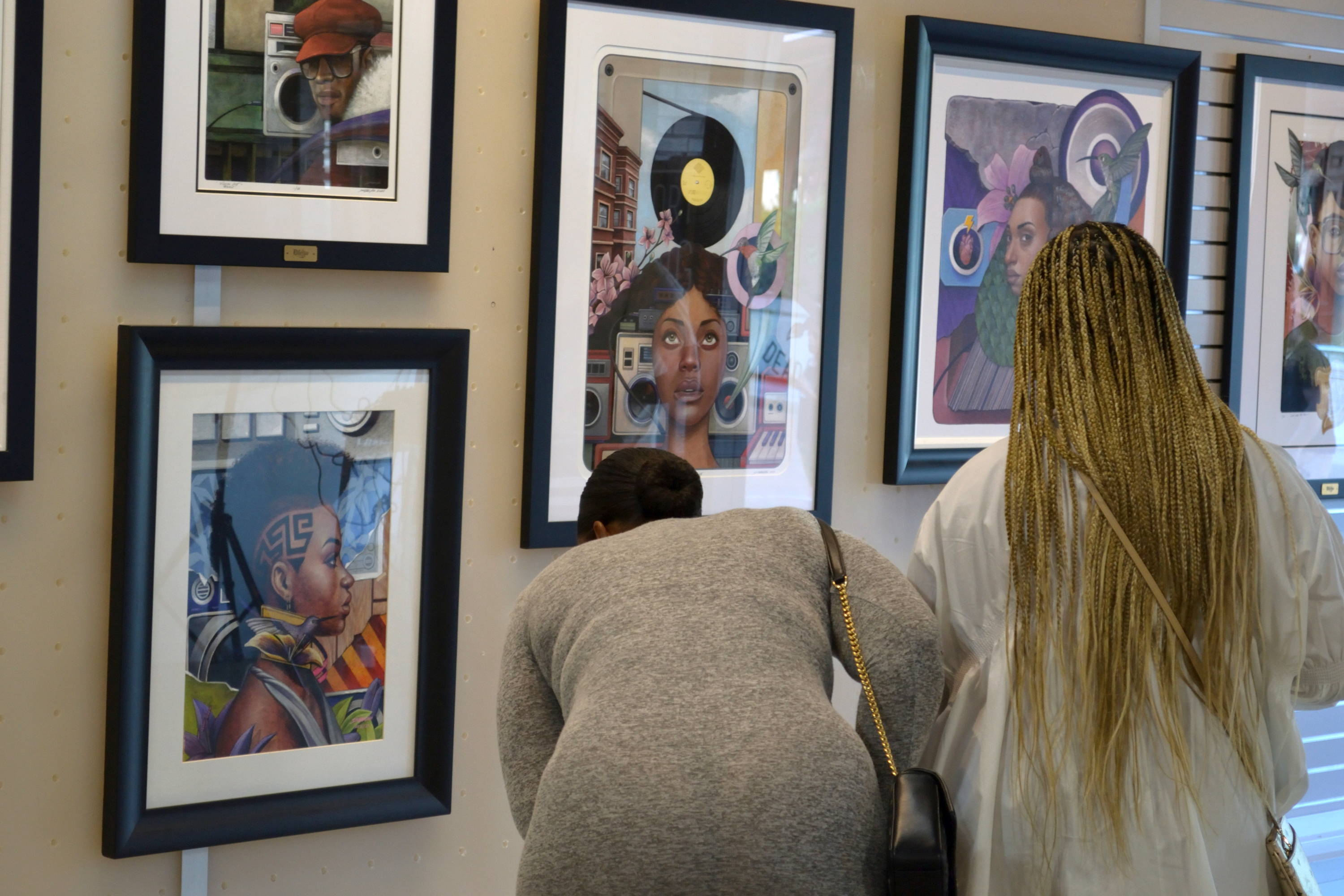 Patrons viewing the work of Atlanta-based artist Dubleyoo.
(Photo Credit: Daniel Richardson)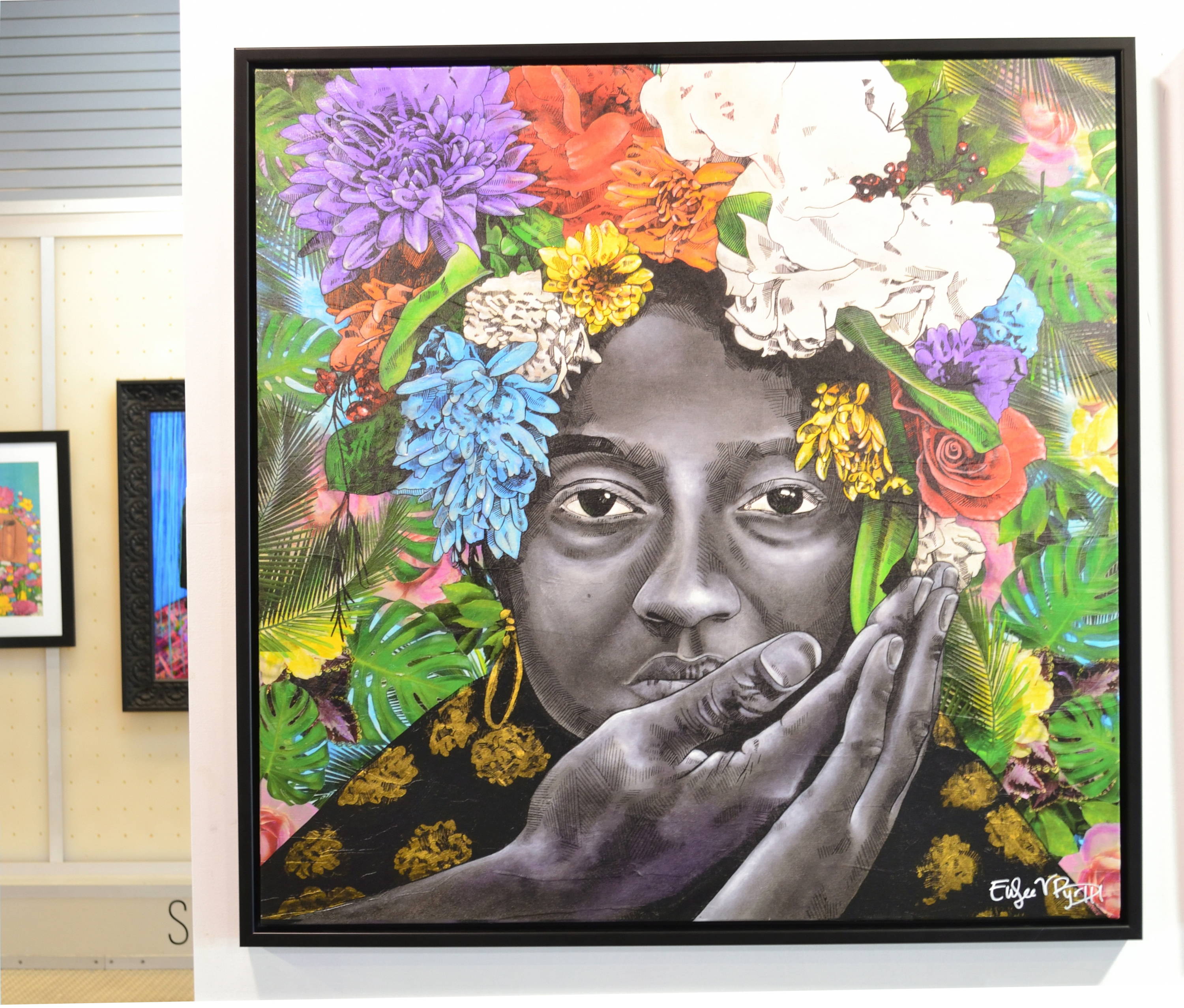 We are the ones this time, EuGene Byrd III
(Photo Credit: Daniel Richardson)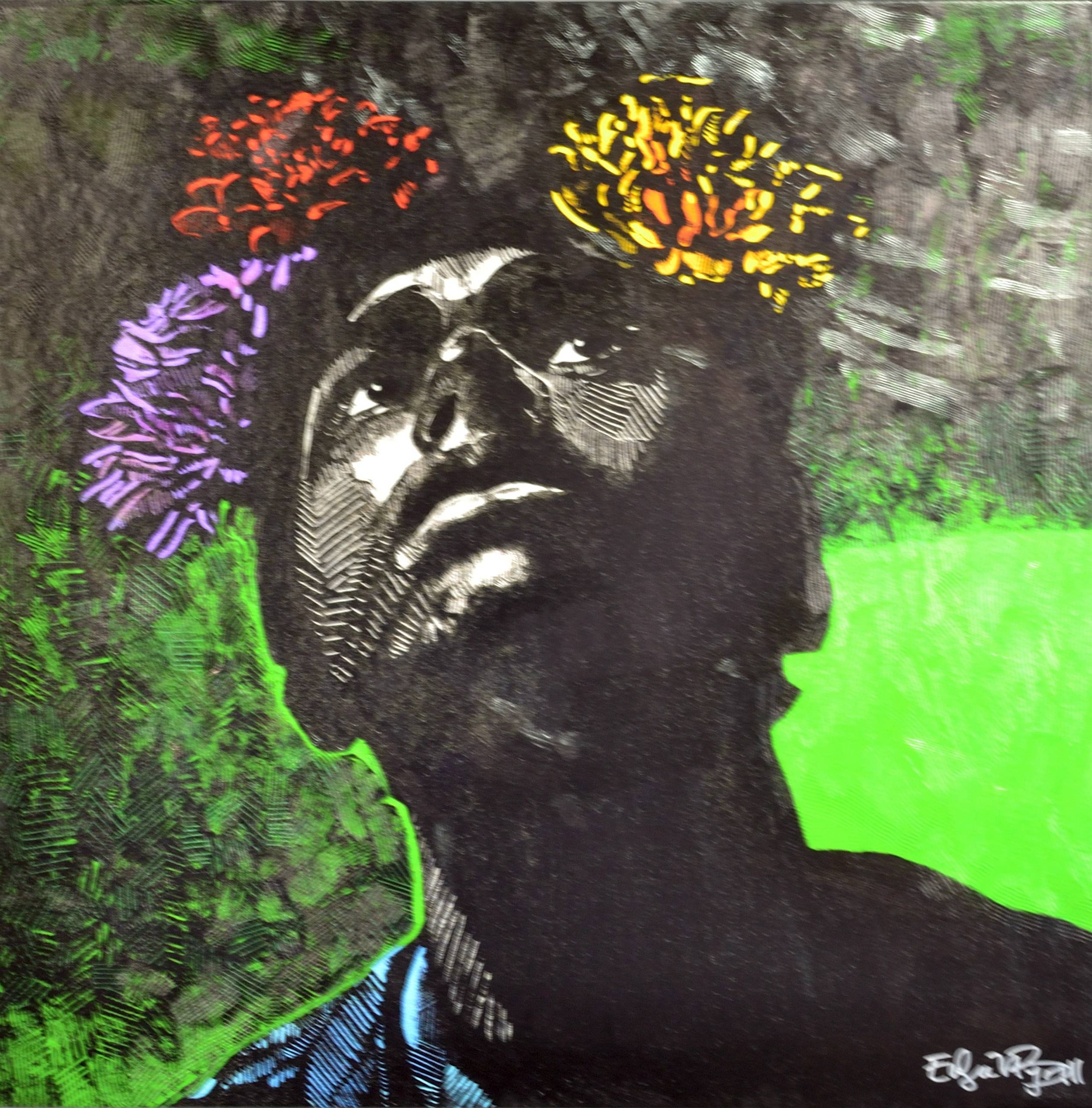 I'm starting to Understand, EuGene Byrd III
(Photo Credit: Daniel Richardson)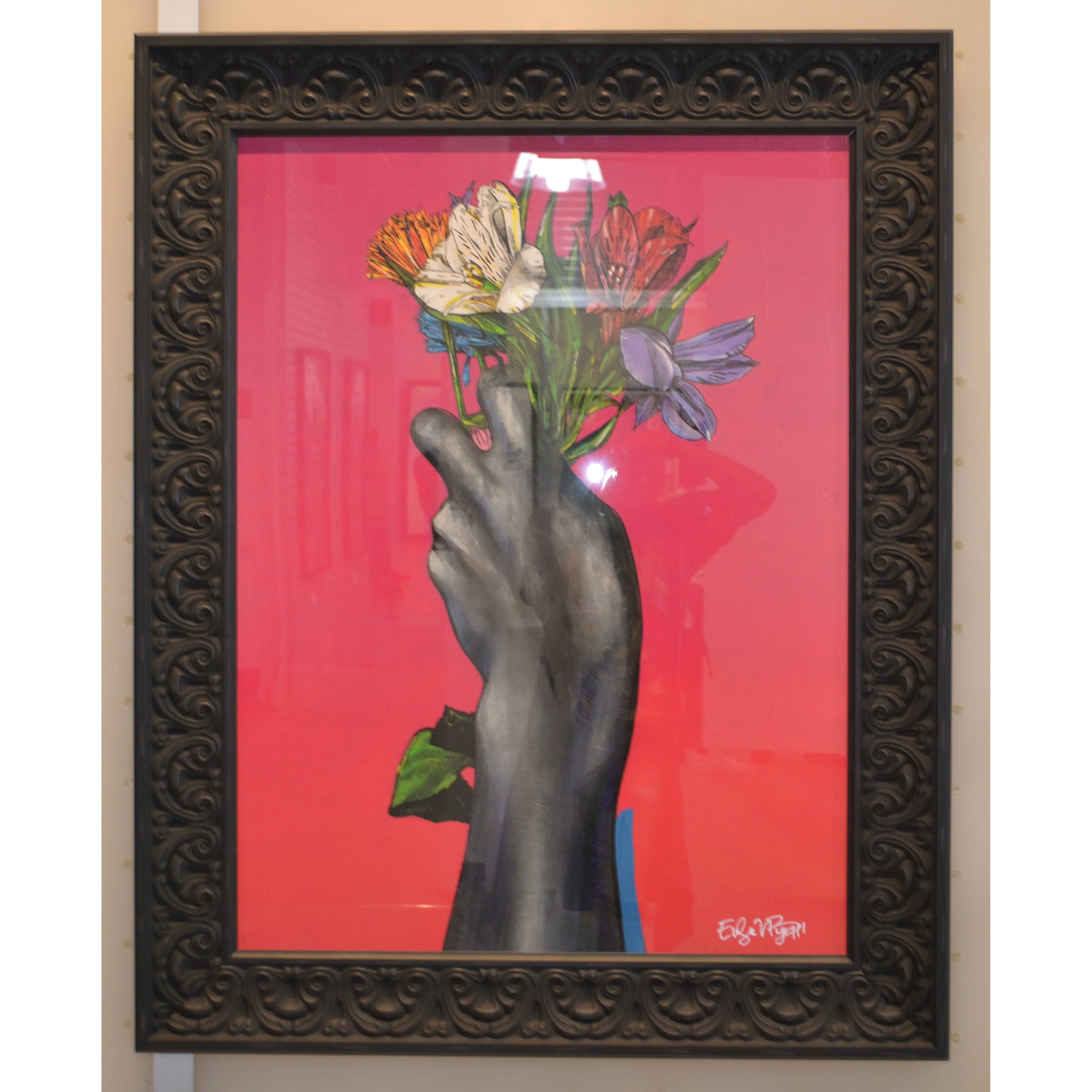 I Still Fxkng Love you, EuGene Byrd III
(Photo Credit: of Daniel Ricardson)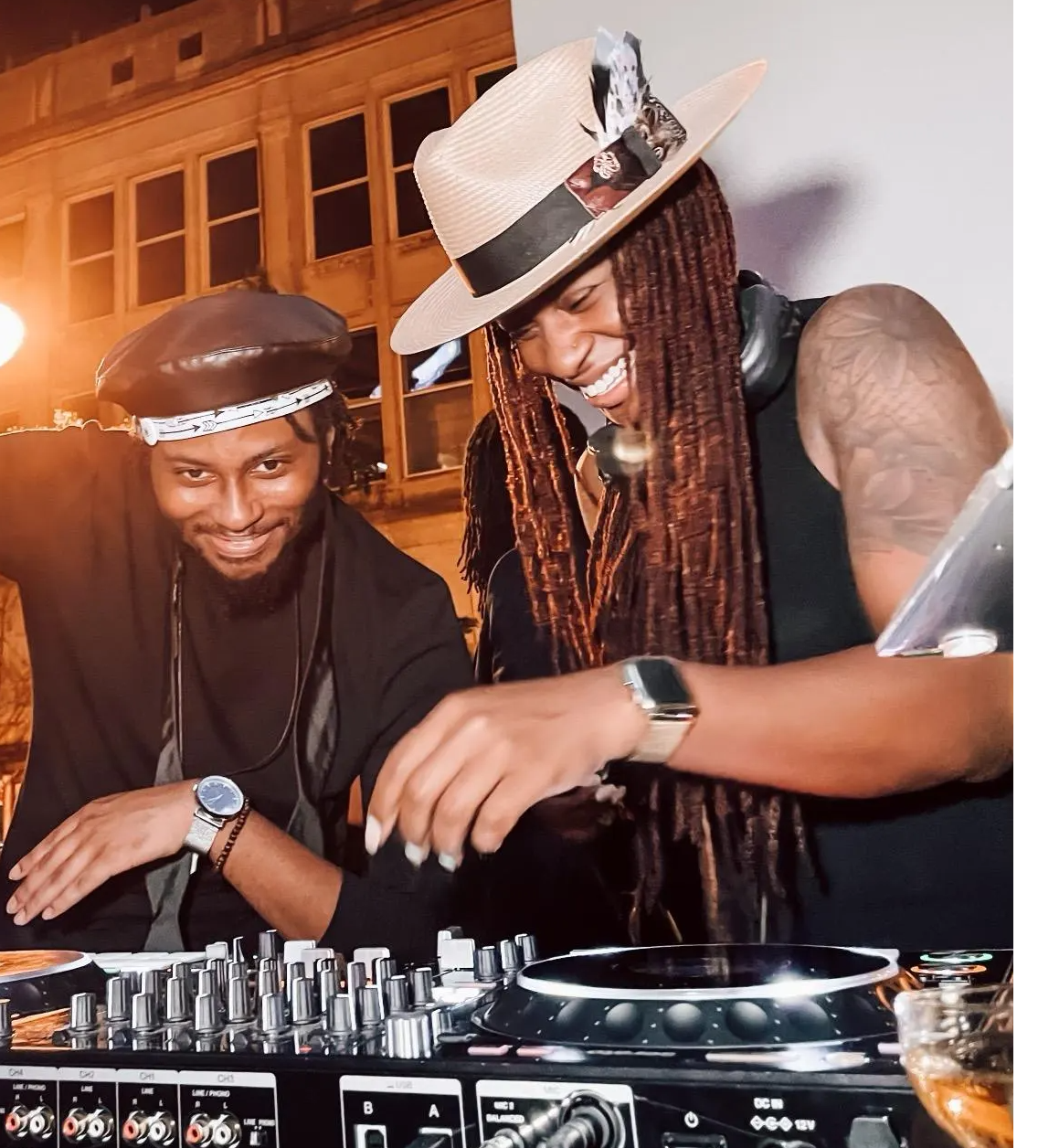 Daniel Richardson is from Southwest, GA which makes him Southern, but not country. He has lived in Atlanta for nearly a decade where he attended and graduated from Atlanta Metropolitan State College and Georgia State University where he completed an undergraduate degree in Journalism.
To Daniel, art gives him the ability to study the stories of the Black experience and explore it more fully.
Contact Daniel Richardson on: Twitter
---
1 comment
---
---